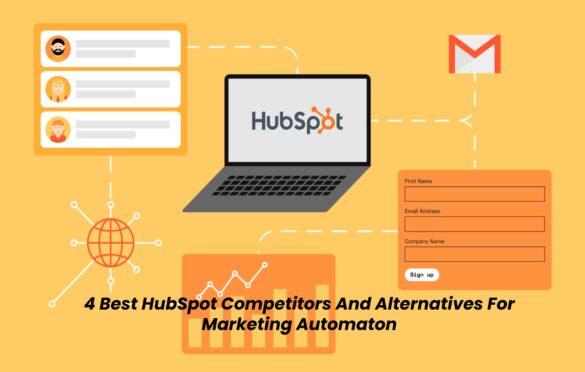 4 Best HubSpot Competitors And Alternatives For Marketing Automaton
HubSpot has a lot of competitors.  There's also a minor issue to consider. Despite the fact that HubSpot advertises some of its services as free, such as its CRM, you will need to pay for the majority of HubSpot's services to get the most out of them.
True, HubSpot is the most well-known marketing app on the market, but with all that fame and—yes, even some notoriety—comes those astronomically high prices. In reality, HubSpot can be so expensive that it is out of reach for many small businesses and startups.
That's why we're always looking for HubSpot competitors as advertisers and salespeople. In this post, we've compiled a list of excellent HubSpot alternate tools and applications that should suffice. They're all close to HubSpot in some respects, but without the astronomical price tag that scares away so many small businesses.
HubSpot is the best choice on the market because it provides all of the advantages of a top-tier CRM platform at no cost. There is a free plan available on Engagebay, but it is limited. Its Pro plan has a feature set that is more comparable to HubSpot's, but it is not worth paying more for. Both can work as alternatives for each other.
Engagebay is a perfect alternative to HubSpot for those looking for a less expensive but more efficient solution. Mobile optimization is built-in, and email marketing is included for free! Engagebay is an all-in-one marketing app that is far easier to use than HubSpot. You aren't bombarded with a slew of needless gadgets that make you wonder why you are paying for all of this. Your inbound marketing requirements are met without the need for an onboarding charge. If you get lost and need assistance, the support staff is knowledgeable and quick to respond, so assistance is just a click away. They aim to provide the same great services at a lower cost as a HubSpot alternative.
Advantages:
Their free plan comes with a number of features.
Paid plans at a reasonable price
Users may add as many or as few contacts as they want with their contact management feature.
Disadvantages:
The free plan only lets you store 1000 contacts and addresses.
There are only a few integrations available.
Costing
You can use EngageBay's marketing platform for free if the marketing team is less than 15 members. Engagebay offers three pricing levels in addition to the free account:
The "basic" plan costs $8.99 per user per month.
$29.99 a month for "expansion"
The "pro" plan costs $47.99 a month.
HubSpot Sales Hub and Nimble are both competitors in terms of meeting our reviewers' requirements. When it comes to ongoing product support, reviewers believe Nimble is the better choice. Favor Nimble's direction as an alternative over HubSpot Sales Hub's in terms of feature changes and roadmaps. Nimble is the only CRM that automatically populates contact profiles from anywhere on the internet. Simply hover over any name, and the Nimble Prospector browser extension will provide you with actionable contact details, market insights, and interaction history, reducing your data entry time by half.
Advantages:
Excellent Google Apps and Office 365 integration.
Good search features for contacts.
There's a good range of Pie Sync apps that allow Nimble and common business apps to sync in both directions.
Import functionality that is simple to use.
This is an excellent method for preserving and accessing communications history.
Features for creating a sales pipeline that is easy to use.
Disadvantages:
It's difficult to use email in Nimble because you can't connect or transfer mail to any of your files.
Since tags are exported in such a way that they can't be used outside of Nimble (e.g., in Excel, Access, etc.), you'll need to use custom fields instead of tags if you're serious about data segmentation.
The majority of app integrations necessitate the use of a synchronization method.
Infusionsoft is the less expensive alternative, but it charges per customer, while HubSpot's pricing is dependent on the number of contacts and the package level purchased. HubSpot has a free version of its software, but it is severely restricted in terms of automation hence Infusionsoft acts as an alternative.
Keap (formerly Infusionsoft) is a cloud-based marketing and sales solution that combines CRM, marketing automation, and e-commerce functionality into a single platform. Keap assists small companies in a variety of sectors in sales and customer service management.
Advantages:
Users can create contact segments, monitor customer interactions, send emails, and run campaigns with customized communication triggers based on email opens, clicks, and other factors. Users can also handle e-commerce, from inventory to payments and delivery, as well as create online shopping carts, monitor digital storefront operation, and submit quotations, invoices, and receipts.
Disadvantages:
A one-time mandatory kickstart fee of $1999 is charged by Infusionsoft. Although having an Infusionsoft consultant assist you with the first few promotions is beneficial, some consumers are put off by the initial cost.
No native integrations with third-party tools – Infusionsoft has no native integrations with third-party tools. Although they do have a platform of over 300 applications and extensions, all of them come with a monthly subscription fee.
Though Infusionsoft reports deliverability rates of more than 98 percent, we've seen some user tests that indicate Infusionsoft's deliverability isn't as strong as some other tools.
If you're in view of Hubspot or GetResponse, it'll mostly rely on the company side of things and how well it aligns with the key objectives you want to reach. Both are Competitors and are proposed to help and support you in determining which companies are best suitable for your company. Produce permission-based mailing lists, optimize conversions with email automation and quick-to-respond design, and create landing pages with this online marketing tool. Video email marketing, a custom form designer, email-to-speech, and an iPhone app are among Get Response's features.
Advantages:
GetResponse has an intuitive simplicity and dominant interface that makes creating campaigns a breeze. It only takes a few minutes.
Get Response's intelligent list building is ideal for creating and using any number of segmented lists.
Conversion Funnel Builder is easy to use.
Professional models for a multiplicity of marketing campaigns are accessible.
One of the most successful autoresponders on the market.
Disadvantages:
You require consistent delivery rates: Deliverability should be the main concern for any email marketer. Also, GetResponse had some potential growth in our deliverability checks. Of course, delivery rates fluctuate, so we expect an enhancement in the near future.
You're looking for a no-cost plan: GetResponse does not bring a free plan (or even freemium); instead, it offers a 30-day free trial. Please, check out these providers if you're looking for a free newsletter service.