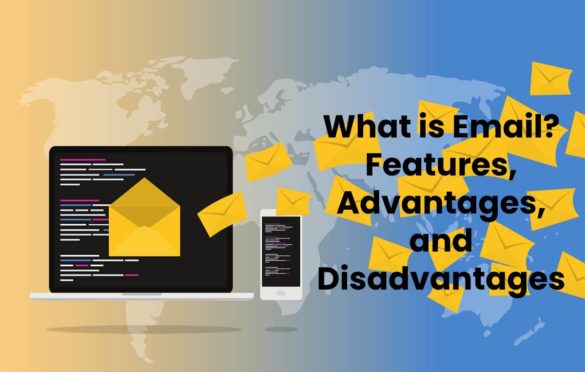 What is Email? Features, Advantages, and Disadvantages
Today everyone talks about email, and it is undoubtedly something very well known to those of us who have been working with the Internet for decades or years. However, if you are starting in this fascinating world, you may doubt what email is, its characteristics, or the best email providers.
Also read: How to get Likes and Followers on TikTok Without Buying Them
What is Email?
Known as Email (Electronic Mail), it is the most popular communication system on the Internet. Email is a system that allows us to send messages from local computers to remote computers, be it on a home network or a worldwide network such as the Internet.
Advantages of Email
The main advantages of email are:
It allows you to send a message to anyone in the world in a matter of seconds.
You can send the email and let the person read it whenever they want.
Today, there are thousands of free email providers
You can send messages and attach personal documents, photos, videos, and much more.
It is usually easy to learn how to send emails, both personal and corporate.
Disadvantages
Some free providers impose stringent limits on their users, especially regarding the disk quota they assign to the box.
Free providers also generally only allow you to create one package unless you have a paid provider.
Both to send and to receive, you need to have Internet access. You cannot use email offline. Otherwise, you will not be able to send or receive from the remote server.
Since its inception, a big problem with email is a large amount of junk mail (spam) that you will receive daily or weekly.
Mail Types
There are two types of ways to connect to use email, depending on the mail server that you are going to configure:
These are the protocols that allow you to configure email in a specific email client, whether on a mobile phone, desktop PC, notebook, or smartwatch. These protocols and the ways to configure them are determined by the mail service provider (personal or corporate mail). A classic example of an email client is Microsoft Outlook. You can see how to use it in this client by following this guide: Configure an email account in Microsoft Outlook. If you are interested in book learning more about how it works, we suggest reading these articles: What is a POP server? And What is the SMTP port?
Today almost all providers offer web access since you do not need more than a web browser such as Mozilla Firefox or Google Chrome.
What can I do with an Email?
Some certain features and workings are inherent to all mail providers: things that they allow you to do, no matter if it is a free or a paid provider. They are:
Send messages
Receive messages
Create, modify and delete folders
Manage spam (junk mail)
Create forwarders and autoresponders
Send attachments
Create contacts and use them to send emails
Forward, Reply, and Delete messages
Change identities, ideal for users who use the same computer
Prioritize sent emails (high, medium, or low)
Create mailing lists to send group mailings
Send a single copy or blind copy to multiple senders
Calendar: ideal for organizing your most important affairs
Golden rules when Sending an Email
Comparable to everything on the Internet and in real life, here are all the time rules and tips to follow while sending or replying to an email:
Try to be as brief as you can. Nobody likes to read a bible. That's what voice or audio messages are.
Try not to abbreviate words. Write to them correctly.
Please correct your spelling before submitting it.
Please choose the subject of the email as a summary of it
Do not use capital letters, except to start a sentence. Take to mean as a shout or loud voice.
Types of Email Accounts
Simply put, the email can be personal or corporate, or professional. Let's see what it's about:
Personal Mail
It is usually the most common type of email, the one you use for your business. It serves to send mail to friends and acquaintances, such as family, or even use it to register on social networks, web and mobile applications, or actively subscribe to different newsletters on topics of interest to you.
You should never use a personal account to handle business matters.
Corporate Mail
The corporate email remains often used for your work, both your own company and one for the third company you work. The email you will want to use to contact your clients, business contacts, and others. You will send estimates and receive formal communications regarding the company you represent.
Collaborative tools are situated generally integrated into corporate emails, such as Google's Gsuite, which includes access to Google Docs, Sheets, and others, commonly used by work teams.
Most Popular Providers
There are many email providers, but the most popular without a doubt are the ones listed below:
Gmail
Google's popular email service is today, and for years, the most widely used free email service in the world. It also has a variant called G-Suite, which is the paid version of Google's mail suite and office applications, which is what we mentioned above, a perfect integration for companies and work teams.
It also stands out for having one of the best spam filters globally, something many other providers often fail. He is always receiving updates and new news from his development team, who seek to make your life easier every day. The downside of the paid version is that they charge almost $ 5 per box, which becomes very expensive if you have many compartments, considering that there are similar services for much less.
Outlook
The outlook is one of the first mail services in the world. It became popular thanks to the famous Outlook Express that stood installed on all computers with Microsoft Windows. But the forerunner of this favorite email service is Hotmail, where almost everyone has or had an email until Gmail's appearance.
For nearly a decade, Microsoft bought Hotmail and merged it into what we know today as Microsoft Outlook. Microsoft's free email service and the gateway to corporate customers who later decide to subscribe to Microsoft 365 email are the paid version. It costs like G-Suite about $ 5 per month.
Yahoo!
The email from Yahoo! Mail was another top-rated service during the 90s and 2000s. It was a pioneer on the Internet, which could not keep up with the changes, and which today is a shadow of what it used to be. Even so, they continue to offer free service as always, and of high quality.
Conclusion
This review on the concept of email is a beneficial service that put away practice in the intervening time at the beginning of the Internet. The mail service has gone forward a lot since then, smooth so, it is static, one of the most fantastic used electronic communication services in the world. No matter the type of company you work for or the business you have set up, you will have to use the service sooner or later.
Also read: Things Have in Facebook Messenger, and You Didn't Know It