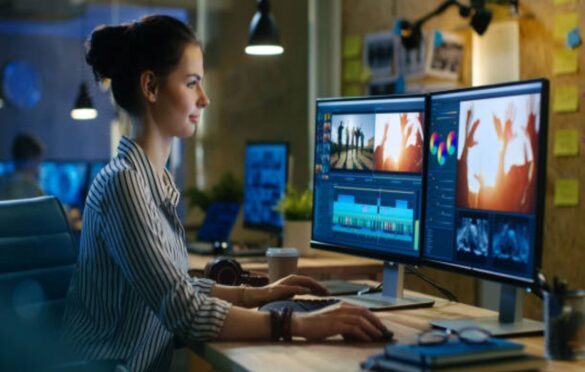 5 Guidelines When Hiring A Video Production Company
With more and more businesses going online, companies are now using videos as an effective marketing tool. Video content promoting the business is one of the most creative ways to make a good impression and not bore your audience.
If you're looking to create corporate videos for the world wide web, you must produce something that reflects your brand and engages viewers. To avoid blowing up your return on investment and spend your marketing budget on a video production company that doesn't deliver, take note of these five guidelines.
1. Business Goals
Before you discuss the specifics of your project, make sure that you already have a target audience and business goals set. After all, you'll want to hire a video production firm that's marketing-oriented, knows how to sell your products, and, most importantly, deliver your message.
Look for a video production firm that has integrity and aims to build long-term relationships with clients. Since they want to develop a long-term partnership with you, they'll definitely care to ensure the success of the video production.
Ask for a Proposal
Ask for a proposal that clearly explains what video production services you'll be paying for? Will they be shooting video productions in HD or SD? How many days will the project take?
These questions will help you understand how they arrived at the quoted price. Also, this helps ensure that the video production company isn't cutting corners to offer the lowest price when it's not even in your best interest.
2. Portfolio
A production company with enough experience will always have a portfolio available for anyone interested in looking at their previous works. Most of the time, you'll see the portfolio on their official website.
When you view previous works, make sure that the video content produced matches your standards. The portfolio gives you an insight into the quality of videos and whether it's something worth your investment. Are the videos attractive, engaging, and professionally made? These are questions you should ask when looking at portfolios.
Compare the Portfolio to Your Desired Concept
Sure, the one you're interested in has a great portfolio and excellent testimonials. But take note that you have a vision when promoting your business. Make sure that the production company you choose to hire can produce something the same with the concept you have in mind.
As you check their portfolio, you'll get a good idea of whether the style of the production company is in sync with what you're looking for in corporate video production. This will make your hiring decision so much easier later on.
3. Project Management
Another thing you need to probe is how you'll be managed. Make sure that you hire a company that will handle every aspect of the production process, especially if you're too busy to hire and manage a videographer in-house.
Here a list of questions to dig into the company's project management process.
Do you have a professional scriptwriter on your team?
Can you share some ideas that'll match my vision for the video?
Do you already have actors ready or a casting company you can refer to?
What kinds of video production equipment do you have?
What about the cost, editing, set locations, and staffing numbers?
Other things to consider:
Production Team – Are all of the team members industry professionals? How many will be involved in the video production, and can they handle all your needs?
The Process – How will the production process run from start to finish? What role will you be playing in the process? Make sure that as the client, your voice will be heard.
Lines of Communication – You should be involved in each step of the production process and have a direct contact channel with the person in charge. If you feel something's not right or you need to change some shots, you should be able to voice out your concerns as quickly as possible.
4. Marketing
Marketing is just as important as producing your videos. One commercial spot isn't enough to reach your target audience, thinking they'll go and buy your products the next day.
Promoting your business is an ongoing process. When you hire a company for video production, ask about marketing it on different platforms to reach a wide audience.
5. Price Quote
The price doesn't indicate quality. Sometimes, there are companies that charge less but offer higher quality videos than their expensive competitors. This is why research is important.
As much as possible, get a quote from every video production firm you're considering and compare that price with the services they provide. Then, move on to comparing the quotes with the budget that you have. The goal here is to find an affordable video production firm that produces videos you can be proud of and the results you need.
Hire Only the Best
When you compare and evaluate video production companies, let the five points above serve as your guide. Hiring the right professional video production team that is easy to work with can improve the chances of marketing success.
For More Information:https://www.technologybeam.com/telegram-write-for-us/