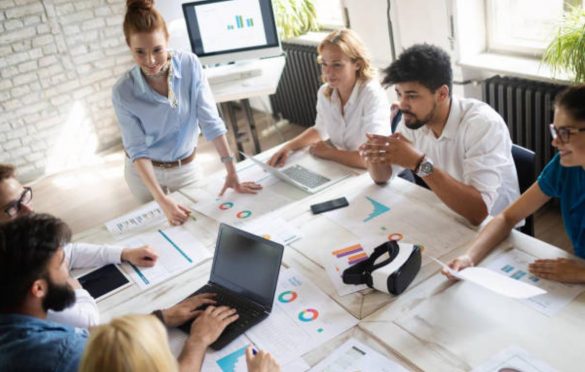 How To Hire A Dedicated Software Development Team For A Startup?
Employing a dedicated software development team for an early-stage startup is difficult.
Developers prefer working in distinguished companies for more advantages, more scope for growth, and more stable conditions.
Small businesses can't compete with well-established firms regarding salary and other benefits.
Many startup founders choose outsourcing as a substitute method of recruitment.
According to a survey, approximately 40% of small businesses outsource their business processes, which is anticipated to upsurge.
In this blog post, we will share proven tactics for hiring developers for a small business.
● Jot Down Your Objectives, Requirements, And Budget
Before hiring the development team, you should define your requirements and decide on your ultimate objectives and budget for each process.
You should also consider how many and what specialists your organization needs and the skills the professionals need to have.
These steps will assist you in organizing the employment and product development procedure right from the outset.
When you clearly know what you wish to acquire in the end, you won't have problems with your team.
● Conduct Market Research
Market research is the most critical and time-consuming phase in finding a dedicated software development team. 
However, it will permit you to make a more careful decision on which team to hire based on statistics and facts.
The first tip is to expand your search geographically. Your team does not have to be from your region or country.
There are countless remarkable options overseas too. Explore specialized platforms like Clutch, IT Firms, and B2B review sites to discover vendors.
Afterwards, create a list of 5-10 companies worth further deliberation.
We recommend creating a spreadsheet to put down essential assessments and scoring points.
These can be staff size, the number of similar projects, level of expertise, pricing, etc.
● Look Through The Testimonials
Before employing a development team, it is a good practice to learn the views of other client firms like yourself.
Don't restrict yourself only to the reviews published on the company's site.
You should look up the development company on several professional platforms.
There you can discover the verified feedback of those who have already worked with the company.
Read as many reviews as possible and note the weak and strong points revealed by others.
In this fashion, you can better understand the outsourcing vendor and how your collaboration may go.
According to the testimonials, you can select someone else if the service provider is unreliable.
● Check The Portfolio
Most outsourcing vendors with the due skills generally have a decent portfolio, exhibiting comprehensive case studies on the projects they have successfully delivered or are in progress.
Such samples outline the goals, methodologies, and solutions that the development company utilized to accomplish the client's goals and requirements.
By checking the portfolio, you can comprehend the processes and whether the company is a good fit. Pay particular attention to projects similar to yours.
If the company has already done projects resembling yours, you may examine the final outcome and decide what you would like to implement differently.
● Interview The Team
The concluding step is interviewing the dedicated software development team. 
You can schedule a Zoom or Google Meet video meeting to discuss the project and get to know the candidates. Make a list of questions and state project deliverables.
You can inquire about the team's previous experience with resembling projects and how they would approach your project.
Ask about their availability and which solution they propose. The aspirants are selected according to their soft skills, technical skills and expertise, and background to figure out the perfect-fit candidates.
FAQs
1. Why Should You Employ A Dedicated Development Team?
These days many small and medium-sized organizations are keen to outsource their development tasks for numerous reasons. Here are a few of them:
● Launching A New Product
Hiring a dedicated development team is an effective approach for small and medium-sized companies to create a ground-breaking product and launch it without investing too much money and time.
● Scaling The Business
If you aspire to scale your business, you should consider hiring a dedicated team. It is beneficial to outsource all the development aspects to a software team and concentrate on marketing and management aspects.
● Limited Budget
Outsourcing software development projects offer sensitive savings to early-stage startups.
In-house development teams are very expensive for countries like France, Germany, and the USA, where the rates of developers are quite high.
However, software teams from countries with lower rates like Central and Western Europe offer a huge talent pool and competitive atmosphere.
● No Vision Of The Final Outcome
Some projects don't have a clear scope, time frame, expenses, and vision of the end result.
The requirements become clear eventually, while the budget, timeline, and scope can be determined after a particular time and effort spent on the project discovery phase.
2. What Are The Types Of Development Teams?
The types of software development teams are distributed by the area of their work. As a team, you can employ:
QA specialists
Front-end developers
Back-end developers
UI and UX designers
Project managers
DevOps engineers
Data scientists
Solution architects
Business analysts
You can appoint either one expert or the entire team that will include experts from all areas.
3. What Are The Perks Of Hiring A Dedicated Development Team?
These are a few benefits of outsourcing your projects to dedicated teams.
● Save Time
If you have a long-term project and intricate requirements, it is best to hire a dedicated team. This model will enable you to avoid spending time on common errands like finding professionals, making the team, etc.
● Faster Availability
Your dedicated team will only work for you. They deliver the results in the minimum time because they are devoted to only one project at a time.
They are forever available to fix any technical emergencies you might experience during the development process.