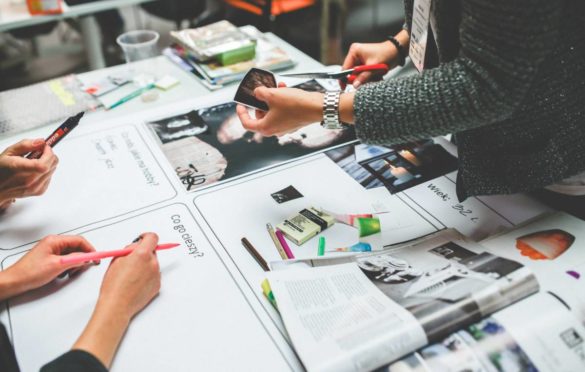 What is Graphic Design and its Types?
Graphic design is sometimes related to artistic activity but visually communicating the message with a clear objective. And hence many designers prefer to call it Visual Communication Design rather than merely Graphic Design.
Mom, I want to dedicate myself to graphic design
What does a graphic designer or graphic designer do?
How do you work on a graphic design project?
What are the types of design?
The evolution of graphic design
Also read: The Best Drones of 2020 – Comparision and Keys to Buy Drones
I want to Dedicate myself to Graphic Design
Even so, for many, it still means a purely artistic activity, lacking any other objective than to make things seem more beautiful. Nothing is further from the truth.
And to understand it even better, we quote one of the great masters of Spanish graphic design, José María Cruz Novillo, artist and designer. When he says that "the designer is an archer who shoots the arrow to hit the center of the Diana. Instead, the artist shoots the arrow and, in the place where it has landed, paints the target".
What does a Graphic Designer or Graphic Designer do?
A graphic designer's role is essential for the proper development of society, both economically and socially. Can you imagine your city's streets without traffic signs, or that brands did not have a pictogram that differentiates or identify them? Would you easily distinguish a book on a bookstore's shelf, or would you quickly find allergens' symbols on a food product without an icon to identify them?
Thus, the designer improves the visual appearance to pursue a more transparent and more legible communication of the message and information. Its function is applicable, among other things, to:
Brand design: Branding and strategy. Corporate and institutional image.
Logo design: For brands and other applications, within a global branding strategy (or blending if you want).
Web design, apps: Graphic design for virtual environments and devices.
UX / UI design: A new branch focused on user experience and its relationship with interface design.
Interactive design: sound, touch, and visuals come into play to convey the message.
Image design: Photo retouching, image creation.
And the list goes on and on until we exhaust all the words related to design.
How do you Work on a Graphic Design Project?
They exist to solve communication problems, facilitating the arrival of the message to the receiver. So the first step is to identify the issue through an initial briefing, which will be the starting point. From that moment, and depending on the type of project, a creative process begins based on a series of strategic parameters or opinions resulting from that first case study.
Let's take a fundamental idea of ​​this process:
The client hires a graphic designer and presents the problem
A briefing is written, with or without the help of the designer. In any case, a counter-briefing may or may not remain presented to finish identifying the problem or communication objectives.
The designer presents a proposal that is worked on together with the client until the final result remains reached.
The final project remains presented.
And finally, the implementation and production.
What are the Types of Design?
The disciplines that you can study and that remain based on graphic design are innumerable. New technologies and the many devices we use to communicate and access information have only expanded the activities and services in which a graphic designer can specialize.
In this explanatory list of the different graphic design types, we present the most traditional ones, the pillars on which we can categorize an endless number of disciplines associated with innovation.
Editorial Design Editorial
design specializes in graphic design for books, catalogs, brochures, magazines, or newspapers. The structure and composition of printed or online publications for the publishing industry.
Brand
design It involves designing a corporate image, logo design, branding (or the new concept of blending ), institutional graphic image, visual identity design, etc.
All brands need to differentiate themselves from the competition, with a series of characteristics and values ​​that define them.
Design for Digital Environments and Formats
What began as an application of editorial design and brand design to web environments has ended up being a discipline that encompasses professional activities related to user experience (UX) design and interface design (UI). Result of adding to the function of static graphic design, interactive design, and the strategy applied to creating intuitive structures for the end-user.
Advertising Design
The name defines it and remains applied to the advertising sector for products, services, and other activities. More related to the advertising industry, it also applies to visual communication functions for other institutional, governmental, and social project sectors.
Packaging
design Packaging design is the design of the envelope intended to protect and contain a specific consumer or professional use product, such as food products, toys, electronics, tools, furniture, clothing, etc.
There are two distinct parts: the container's technical design and the graphic design applied to it.
Design of Typefaces
The profession of the typesetter was born simultaneously as the serial production of publications, in the years when scribes created and copied writings, long before the creation of the printing press.
Today, type designers (typographer is another profession, don't get them confused) design typefaces for all kinds of uses. It deserves a separate post because a letter designer's work is as essential as the very existence of the graphic designer's profession.
Signage
design Signage design serves to guide and orient a person or group of people from point A to point B (EXIT, WC, etc.) or transmit messages associated with public or private regulations (STOP, No smoking, etc.).
It can have functional or advertising purposes. And it applies to physical spaces, where there is no other type of interaction between the message and the receiver beyond the visual.
Social, sustainable, or activist design
It is not a discipline in itself, but a way of applying design. Commonly associated with marketing and commerce, the graphic designer can also carry out tasks that contribute to social and environmental awareness through visual communication.
And we could complete the list, of course, and perhaps some of the basics are missing, but this list is more than enough.
The Evolution of Graphic Design
Since the emergence of the internet, a graphic designer's functions have expanded beyond the limits of the foundations of the profession.  The graphic design remains a discipline associated with visual, audiovisual, and to incorporate interaction systems.
Visual communication design is no longer static. It moves, it is touched, it remains challenging, it mutates, it grows, it becomes viral, it is customized. Graphic design happens to be a category of something much bigger. An agent of social and economic, artistic, cultural, and universal change. Two words that become part of the collective consciousness and that no longer fully define the street-level graphic designer's functions.
And that is why, for the mothers of all designers and graphic designers in the world. It will continue to be difficult for them to explain to their friends what their designer sons and daughters do.
Also read: What is Digital Marketing? Characteristics, Advantages and More