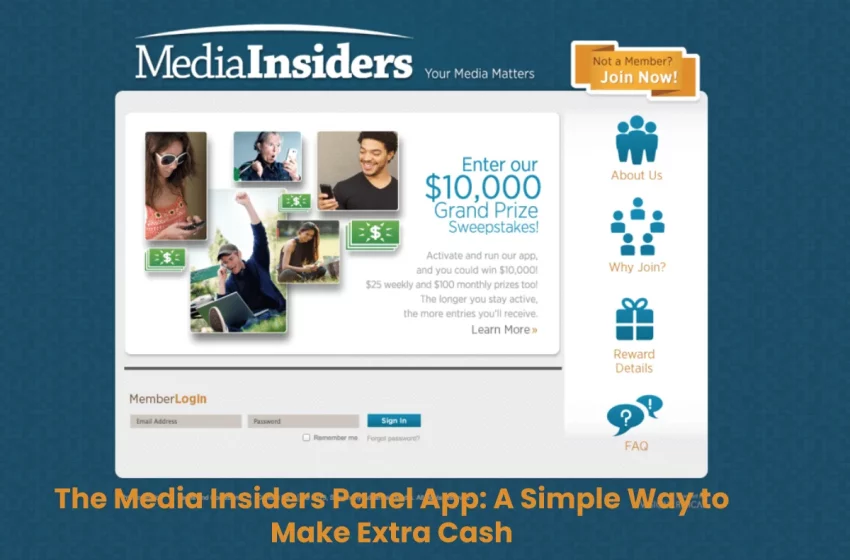 The Media Insiders Panel App: A Simple Way to Make Extra Cash
Media Insiders Panel is a market research app that allows users to participate in surveys and provide feedback on their media consumption habits.
Participants need to install the App on their mobile, TV, tablets, Ipads, or PC devices, and, with their consent, it tracks the media usage anonymously in the background collecting data to gain insights into consumer behavior and trends.
It runs in the background of your device and collects data on your media consumption habits, including TV, streaming, and audio usage.
This Application allows users to participate in surveys and earn rewards. The App is available for iOS and Android devices.
This platform is an application used to gather research on your devices. After you install the Application, it will run silently in the background, slowly gathering information.
The data collected will be sold off as market research, and the user will earn rewards or a small portion in the form of cash.
How Does It Work?
The users must first create an account and fill in the basic information, such as their name, email address, and date of birth.
After creating an account, users can start taking surveys. Surveys are typically short and take about 10 minutes to complete.
For each survey that users complete, they will earn points, which can be traded with Amazon gift cards and other popular retailers like Walmart and Starbucks.
The App is easy to use, and the surveys are short and exciting.
Features of the Media Insiders Panel Application:
Earn rewards for taking surveys
Participate in polls and discussions
Get access to exclusive content
Latest trends and news in the Media Industry
Pros &Cons of Media Insiders Panel Application:
Pros:
Easy to use
Short and interesting surveys
Variety of rewards
Exclusive content
Up-to-date news and trends
Cons:
Some surveys may be repetitive
Rewards may not be worth the time investment
Some users have reported technical problems
Overall, the Media Insiders Panel app is a great way to earn some extra money and get rewarded for your opinions. The App is easy to use, and the surveys are short and exciting.
However, some users have reported technical problems, and some surveys may be repetitive.
Rewards
Users could earn rewards or get Pay by PayPal or E-gift Card – your choice. With 500 points in your account, you can request an e-gift card worth $5.
In addition, with 2500 points, you can receive a $25 PayPal payment. With PerksPlus, you can choose from even more rewards from retailers such as Amazon, Target, Walmart, Whole Foods, Starbucks, Bass Pro Shops, concert tickets, hotel accommodations, and much more!
The App aimed to gather information on various forms of media, including television, radio, streaming services, and digital content.
Media Insiders Panel seeks to learn how media is shared on your device (such as Facebook, Twitter, etc.).
They will never hand out information regarding your identity, family, friends, or anything related to your personal life.
Here is currently what type of information they capture:
Web page visits
Videos Watched
Ads viewed
Facebook and Twitter Activity
Surveys were taken (optional)
What Devices Support the Media Insiders Panel Application?
Android devices that support Android version 4.0 or greater that aren't rooted
Kindle Fire HD Devices with built-in microphones
iPhone versions after 5 that run iOS 7.1 or later
Setting UpMedia Insiders Panel
Getting set up with Media Insiders Panel can be tricky, depending on your device, but we will show you the most straightforward way in 5 short steps.
To sign-up, go to www.mediainsider.com . You can sign-up from your mobile device, but from a PC or Mac will be much easier.
You will be asked to fill out personal information such as your name and email address. When you get to the question about which rewards program to join, you can choose either Perk Points or the Sweepstakes option.
Choosing the Perks Points is highly recommended as you can make a steady flow of income, and earned points can be redeemed for prizes such as gift cards or cash deposited into your PayPal account.
If you choose the sweepstakes option, you will automatically be enrolled in a weekly, monthly, and quarterly drawing.
After your account is set up, go ahead and download the Media Insiders App to your phone, whether it be an Android platform or iOS. When you open the App, click "Activate" and enter the email you used to register.
If you login correctly and your account is set up, you should get a screen like the one below.
Wait at least 48 hours before noticing any activity on your account. Check back to ensure that Media Insiders gives you the points you deserve. It should be denoted with green checks next to the days you use the App.
You can check your total points by logging in at mediainsiders.com. Click "Check Your Perks Points" on the Member's Page to see your current point status.
You can view the available rewards by clicking the "Rewards" tab. When you have a minimum of 500 points, the user can cash out for a gift card or directly to PayPal. Enjoy!
How Much Can You Earn?
The amount of money you can earn with this rewards program depends on what activities you decide to partake in. If you leave the App installed on your phone and watch TV at least once daily, you will be on track to earn 50 points per week.
You can have 3 mobile devices and one PC device in each household. By having these 4 devices running Media Insiders Panel, you will be on track to earn roughly $15/month without having to do a thing except install their software!
Media Insiders will email you each week regarding your current point status. If your phones never receive points from Media Insiders, you should also receive an email.
Users can collect a bonus of 500 points ($5.00) after running the App for 12 weeks consecutively. It puts us at $185/year in passive income from one App.
Online Reviews of Media Insiders Panel Application
The program has earned a good place in the members' hearts, especially since the sign-up policy is straightforward, and there is even a bonus. However, after using it for a while, we gathered some concerns;
Privacy concerns– remember that this is a tracking program meaning there will be privacy issues and problems along the way. The App claims that the data collected is encrypted, but that is not true.
The Application runs in the background to track your activity, so it will use up all your data even if you operate on a limited data plan.
Some users have complained that their pc seemed to start lagging after installing the program.
MI Mobile Application
The MI Mobile App can be downloaded from Google Play on Android cell phones or tablets that are a 4.0 version or greater, as well as iPhones that are 5.0 or higher.
It can also be downloaded on Kindle devices that contain a built-in microphone. Once you have installed the App, continue watching TV as usual, and your rewards will pile up with regular weekly awards.
The phone App is not meant to interfere with battery usage or take up a large amount of space, and it will run in the background automatically, thus allowing you to earn rewards effortlessly!
Additionally,  you can add more devices, and also there are other ways to earn rewards:
M-Connect VPN:
The panel members can use a  Virtual Private Network(VPN). Joining this VPN will have benefits, making extra rewards. After 5 days of registering a new account, you will be asked to run M-Connect.
Referral: You can earn rewards for referring family and friends who can be active for four weeks.
Mobile – Meter:
Once you install the Media Insiders Application on your single device or multiple devices, you can earn rewards by using your social media applications or browser, listening to music, checking the weather, and using the calendar. The usage of your mobile device is 1MM per day.
Participation in Surveys:
The panel members are occasionally asked to share their thoughts through surveys via the App or email additional points.
TV Activity:
This Application will automatically capture all the data of all television programs once it hears the TV is up and running in the background.
Age Restrictions:
The Media Panel Application is only available for users over 13. The platform also has a minimum withdrawal of 500 points, equal to $5.
Is Media Insiders Panel Scam or Legit?
To answer this question, it is legit! Users are earning from this application and are content with this platform.
However, there are some concerns that we have mentioned in this article. If they deeply worry you, it is not a platform for you!
The best part is it takes very little time to set up the account, and you don't need to do much physically.
Conclusion
Media Insider Panel platform is an admirable application for earning extra income without doing anything. By running it 24/7 on a TV, three mobile devices, and 1 PC, you can make around $185/year in passive income.
This Application can be run with other apps on your phone, which will not take any necessary resources. Not using the VPN is recommended as it may interfere with other rewards programs.
Media Insiders Panel have a dedicated customer support service that usually responds within 24 business hours, and users can connect with them via email at support@mediainsiders.com.
It is suggested to check the website or app store for the latest information and availability of the Media Insiders Panel Application.
No work is required other than installing the App and cashing out. You have to leave it running. The phone isn't intended to interfere with your battery usage or take up many resources, so you shouldn't notice when it's running.