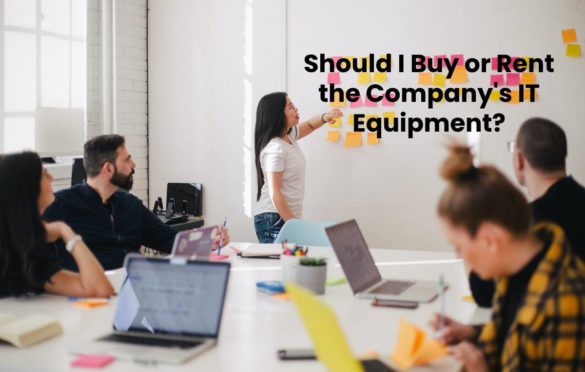 Should I Buy or Rent the Company's IT Equipment?
If your business needs new computers, printers, networking equipment, or other technology, should you buy or rent them? If you don't know, read on. Let's take a look at the advantages and disadvantages of technology leasing.
 Advantages of Lease or Rent
1. Through Renting or Leasing, you can get State-of-the-Art Equipment.
Computers, printers, and other high-tech equipment eventually become obsolete. With a rental or lease agreement, obsolescence's financial burden remains passed on to the company's equipment leasing.
For example, let's say you have a two-year rental contract for a laser printer; After that lease expires, you will be free to rent a more current, newer, faster, and probably cheaper one.
2. Through Lenting or Leasing, you can have Predictable Monthly Expenses.
With a rental or lease agreement, the business will have a predetermined monthly amount, which can help you budget more effectively.
Usually, the company will not pay more than the assigned amount, as it often includes a guarantee on the non-consumable parts of the equipment against damage to the equipment.
3. Through Rent or Lease, you will not Pay in Advance.
Many small businesses struggle with cash flow and must protect every sun or dollar that comes out to keep their coffers positive. For example: with a two-year rental or lease agreement, the company will not need to make an initial payment, but will pay the corresponding rent or rent every end of the month.
It will allow it to have the financial resources for other needs of greater relevance to the business.
4. Through Renting or Leasing, you can Stay Competitive.
With a rental or lease agreement, the company will acquire advanced and more sophisticated technological equipment that could be inaccessible if they had to buy it.
The result: the company will be better able to keep up with its larger competitors without draining its financial resources.
Disadvantages of Lease or Rent
1. Through the Rent or Lease, you will have to Pay more in the Long Term.
Computer equipment rentals or leases are almost always more expensive in the end than buying the goods. For example, a $ 1,200 computer would cost $ 1,800 if rented for three years at $ 50 per month.
However, in some cases, the differential well supports the guarantee of having spare parts or backup equipment that usually covers said rentals.
2. You may be Obligated to Continue Paying through Renting or Reasing even if you stop using the Equipment.
Depending on the rental or lease terms of computer equipment, it is highly likely that the company will have to make payments for the entire lease period, even if the company no longer needs the equipment, which could happen if there were business changes.