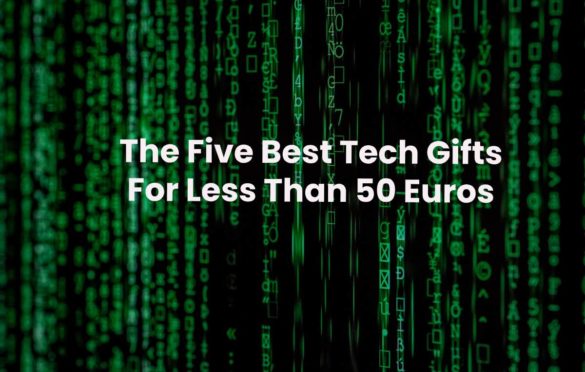 The Five Best Tech Gifts For Less Than 50 Euros
Best Tech Gifts
We offer you five gadgets for less than 50 euros, five articles, ideas, and technological curiosities perfect for giving as tech gifts and surprising first on Black Friday. Then at Christmas, they will surely surprise you!
Suppose you have reached our selection of 6 gadgets for less than 50 euros. In that case, it is because you are probably looking for ideas to find an original technological gift at a reasonable price now that dates such as Black Friday or Cyber Monday are approaching and, above all, the Christmas season.
The best idea often does not involve spending a fortune on the latest phone on the market, no matter how much an iPhone XS MAX or a Samsung Galaxy Note 9. With a budget of 50 euros it is relatively easy to find useful, original devices and accessories And good quality.
Don't you believe us? Please look at this list we have put together with 50 tech gifts for less than 50 euros. In some cases we are talking about accessories that you probably have at home but that you could replace with better ones for very little money. You will also find curious tech gifts that you have never heard of before.
1. A (Good) USB Stick
We all have more than one USB memory at home, so almost no one thinks that it can be a good investment. But it is. The best USB memories offer very significant advantages in terms of speed and security: they are much faster when transferring files -if they are USB 3.1- and, in addition, they are made of resistant materials so that they do not break at the first change .
A good example is the SanDisk Connect Wireless Stick, a small USB memory capable of connecting both by USB and wirelessly to access its content (or transfer files from the mobile). In addition, we can play stored content, such as a movie, wirelessly on up to 3 devices.
2. A Flexible Tripod For Taking Original Photos
Have you ever wondered if it is possible to take really spectacular photos at night with a smartphone? It is not something simple, but it is not mission impossible either. Photographers know that with a little patience and a good tripod it is possible to achieve spectacular light effects.
That is why we recommend buying a flexible mini tripod with a smartphone holder. They are very cheap, so small that they are easily stored in any backpack or bag, and if they have adjustable legs, you can hook them anywhere: from your bicycle to a tree, a rock, or a railing for exceptional framing.
3. Anti-Theft Padlock To Protect Your Laptop
The Kensington security connector is a great unknown to the general public. Yes, the strange hole that many laptops have on the side is useful for something: nothing less than not to be stolen although, for this, you need an accessory (the hole only fulfills that function)
A must buy for those used to using their computer in public places such as cafeterias, public libraries, or airports. With an anti-theft lock, you will be able to get up from the site without fear that someone will "lift" it for you inadvertently if you move away from the table.
4. A Multi-Port USB Charger To Avoid The Mess
The cable dictatorship is a real nuisance at home if you have a handful of mobile devices. Cables everywhere and strips to the brim, something that is neither practical nor efficient at all.
Some say that order is one of the best friends of intelligence. So it doesn't seem like a bad idea to have a multi-port USB charger at home that will help simplify your life. And be careful: it will save you a lot of space when traveling.
5. A Network Extender To End The Wi-Fi Nightmare
Do you have problems with Wi-Fi at home? Can't get enough signal to a room? Don't worry, and it is a fairly common problem that has an easy solution.
A network extender is a device that connects to the power grid and acts as a repeater: it collects the signal from the router and relays it to expand coverage to areas where the connection did not reach before. There are also PLCs to carry an ethernet connection to another house through the electrical network.
0