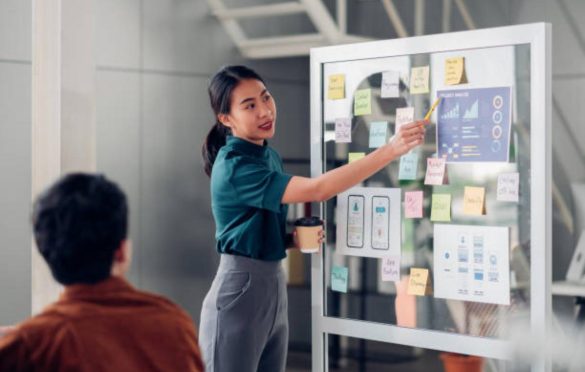 How Digital Technology Is Transforming Business Strategy And Creating New Opportunities For Growth
The numerous applications and implications of digital technology can seem overwhelming at times, but businesses need not be intimidated. With the right strategy, digital technology can be leveraged to drive growth and create new opportunities.
For example, companies can use digital technology to improve customer engagement, build stronger relationships with current customers, and target potential customers more effectively. Digital technology can also help businesses streamline their internal processes, enabling them to generate insights faster and make decisions quicker than ever before. Additionally, advances in artificial intelligence (AI) are creating robust solutions for tasks such as predictive analytics and automation of mundane tasks that would otherwise require manual labor.
We will discuss these points in greater detail in the following article. First, however, if you're eager to learn more about digital strategy, consider registering for the Digital Business Strategy: Harnessing Our Digital Future online short course from the MIT Sloan School of Management. This course provides an in-depth exploration of the tools and techniques needed to develop a successful digital business strategy, as well as practical advice for leveraging digital technology to create new opportunities for growth.
How Digital Technology Is Transforming Business Strategy
With the right approach and knowledge, digital technology can be a powerful driver of success.
Here are a few ways digital technology is transforming business strategy as we know it.
1.    A greater focus on customer engagement
One notable way digital technology is transforming business strategy is by helping companies to better engage with their customers. Through the use of digital tools and platforms, businesses can now more easily collect customer data and feedback and use that information to improve products and services. Additionally, digital technology makes it easier for businesses to target potential customers through personalized messaging, allowing them to create a more effective marketing strategy.
2.    Streamlining internal processes
Digital technology is also transforming business strategies from within by streamlining internal processes. With digital solutions such as cloud computing, IoT (Internet of Things) solutions, machine learning algorithms, and automated technologies, companies can manage many of their daily operations much faster. This increases efficiency in the workplace and enables employees to focus on high-value tasks that require more profound thinking skills.
3.    Unlocking the potential of artificial intelligence
Finally, digital technology has opened up new opportunities for companies to leverage advancements in artificial intelligence. From predictive analytics to automation and beyond, AI-driven solutions can now enhance business operations in ways that weren't possible before. Companies who want to stay ahead of the curve should look into these technologies and invest in research and development to include AI-based solutions in their business strategy.
Opportunities Digital Technology Presents for Businesses
On the topic of new opportunities for growth, let's now explore some of the specific opportunities digital technology presents for businesses in more detail.
Automation
Automation is a key way that businesses can leverage digital technology to streamline their internal processes. From customer service inquiries to analytics, AI-driven automation can help businesses generate insights faster and make decisions quicker than ever before. This gives businesses a powerful advantage in the market when they choose to take advantage of the opportunities that automation provides.
Targeted marketing
Digital technology can also be used to target new customers more effectively. By leveraging data-driven insights and machine learning algorithms, businesses can identify potential leads based on their interests and preferences, allowing them to tailor content that speaks directly to the needs of their audience.
Innovation
Finally, digital technology provides businesses with a platform for experimentation and innovation. Companies can use data to uncover new insights that could lead to the development of disruptive products or services, providing them with an edge against the competition.
Examples of Innovative Digital Technology in Business
We've discussed some of the ways digital technology can transform business strategy. Now, let's examine some real-world examples of companies leveraging digital technology to create innovative products and services.
Amazon Web Services
Amazon was an early adopter of cloud computing, and their Amazon Web Services platform is now used by more than one million around the world. By providing a suite of cloud-based tools, Amazon makes it easier for companies to store data, manage applications, and deploy resources quickly and cost-effectively.
Uber
Uber revolutionized the transportation industry with its groundbreaking ride-sharing service. Using GPS tracking technology and a seamless payment system, Uber has made it simpler to hire rides on demand in nearly 800 metropolitan areas worldwide.
Spotify
Spotify has become the go-to platform for streaming music. By using predictive algorithms and machine learning, Spotify can recommend songs to users based on their individual tastes and preferences, creating a personalized listening experience that keeps customers coming back for more.
What Does the Future Hold?
It's also helpful to look at digital technology's future and consider how it will shape business strategy in the years to come.
AI and machine learning
AI and machine learning advances are continually evolving, making it easier for businesses to leverage these technologies to gain actionable insights. This has already begun to revolutionize how businesses make decisions, but we can expect this trend to accelerate as more companies adopt AI-driven solutions.
Data analytics
Data analytics is another area that is proliferating, with businesses collecting ever-increasing volumes of data they can then use to inform their strategies. We anticipate businesses will continue leveraging data-driven insights to uncover new future growth opportunities. This is already happening through predictive analytics, which helps businesses anticipate customer needs and make decisions based on future trends.
Connected devices
Finally, connected devices are rapidly becoming more prevalent in our lives. This 'Internet of Things' offers businesses the potential to create entirely new products and services that leverage real-time data from connected devices, giving them an edge against the competition. One example of this is the connected home. This allows users to control their smart home devices from a single interface. For businesses, this provides the potential to create a more seamless user experience and open up new revenue streams.
Conclusion
Digital technology has the power to transform business strategy, creating new opportunities for growth and enabling companies to stay ahead of the competition. From AI-driven automation to targeted marketing and connected devices, digital technology is here to stay, and we can expect businesses to continue leveraging it in the future.