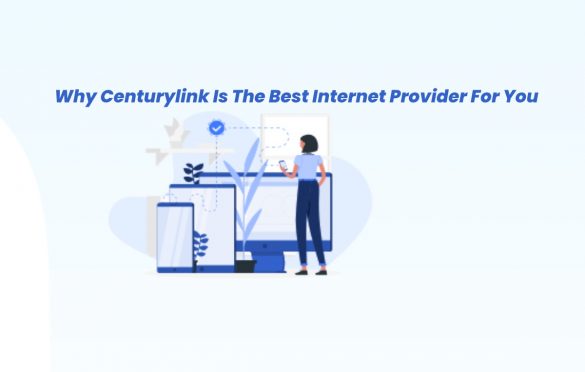 Why Centurylink Is The Best Internet Provider For You
CenturyLink Internet offers the most affordable deals on the market with a variety of plans. Read below to make sure you get the ideal package for your needs.
About CenturyLink
Available in 37 states, this internet provider offers either a digital subscriber line (DSL) connection or a fiber-optic internet, the latter available in 25 states. You can choose a series of internet speeds, depending on your needs. CenturyLink is continually expanding its Fiber Gigabit Internet network, with up to 940 Mbps, on a 99.9% reliable network. You can connect multiple devices to your WiFi connection at home.
Complete coverage for your home
Take a look at what you will get when purchasing a CenturyLink internet package:
Wireless modem with standard technology, WiFi 6
Control your home network from your smartphone, with the My CenturyLink app
Customer service 24/7
Advanced protection with Secure WiFi (built-in with most leased CenturyLink modems
Possibility to connect multiple devices at once
Discounted bundling deals
Where is CenturyLink's internet available?
You can get access to this provider across 37 states in the US, including Arizona, Colorado, Florida, Georgia, Idaho, Iowa, Louisiana, Minnesota, Missouri, Montana, Nebraska, Nevada, New Mexico, North Carolina, North Dakota, Ohio, Oregon, Pennsylvania, South Dakota, Texas, Utah, Virginia, Washington, Wisconsin, and Wyoming.
Fiber connection is currently available in about 50% of our covered area, including Denver, Portland, Salt Lake City, Seattle, Springfield, and Missouri. If your region isn't included in their footprint, don't worry. CenturyLink has expansion plans for this type of internet service.
What type of internet plans does CenturyLink offer? How much do they cost?
This provider offers DSL internet, with speeds up to 140Mbps, and a fiber-optic network featuring two plans. Take a look at all the options available to get the best internet provider for your household.
| | | | | |
| --- | --- | --- | --- | --- |
| Plan | Speed | Price/mo. | Equipmentfees | Data cap |
| SimplyUnlimited 20 | 20Mbps download, 2Mbps upload | $50 | $15 for modem/routerrental (optional) | None |
| SimplyUnlimited 40 | 40Mbps download, 5Mbps upload | $50 | $15 for modem/routerrental (optional) | None |
| SimplyUnlimited 60 | 60Mbps download, 7Mbps upload | $50 | $15 for modem/routerrental (optional) | None |
| SimplyUnlimited 80 | 80Mbps download, 10Mbps upload | $50 | $15 for modem/routerrental (optional) | None |
| SimplyUnlimited 100 | 100Mbps download, 12Mbps upload | $50 | $15 for modem/routerrental (optional) | None |
| SimplyUnlimited 120 | 120Mbps download, 30Mbps upload | $50 | $15 for modem/routerrental (optional) | None |
| SimplyUnlimited 140 | 140Mbps download, 40Mbps upload | $50 | $15 for modem/routerrental (optional) | None |
| Fiber Internet 200 | 200Mbps download, 200Mbps upload | $50 | $15 for modem/routerrental (optional) | None |
| Fiber Gigabit | 940Mbps download, 940Mbps upload | $65 | $15 for modem/routerrental (optional) | None |
The average cost per Mbps for their DSL plans is $1, far less than the average $2.44 that other internet provider companies charge.
As for their fiber plans, the average cost per Mbps is 7 cents, whereas other providers charge between 12 and 14 cents. By far, CenturyLink is the best internet provider for a cost-effective service
Tired of keeping track of your data usage? No data caps here
CenturyLink offers unlimited data for all its internet plans (DSL and fiber). That means you don't have to keep track of your data usage or worry about using up too many gigabytes before your billing cycle is over and having to spend more than you signed up for.
No contract home internet service
CenturyLink Simply Unlimited Internet offers plans with no annual contracts. Also, there are no promotional rates that expire after a few months, no data overuse fees, and no bundling obligations.
If you choose not to continue your subscription, there are no early termination fees for any of their internet plans.
From the minute it is up, your home WiFi will be secured
One of the many advantages of leasing a certified modem from CenturyLink is its built-in security. As soon as you turn it on, your connection is automatically safe.
Their security system is always up to date, helping you stay protected from new cyber threats that quickly emerge each day. You will also get noticed if you visit a malicious website.
Your device Connected Home cameras and smart home devices also get secured from potential intrusions.
Manage your network directly from your smartphone
With the My CenturyLink app, you are one touch away from easily getting access to a personalized network and device control.
Additionally, you can see all the devices connected to your network and check their signal strength.
Parent control is easily accessible even if you're not home
My CenturyLink app also lets parents in control of their children's exposure to inappropriate content on the internet, in the palm of their hand. They can even pause internet access to any device when needed, read bedtime, during meals, and any other time when their attention is required away from an electronic device.
Fiber-optic has you covered for both work and entertainment
Forget glitchy Zoom calls and low-quality videos when binge-watching your favorite shows. More than speed, CenturyLink's Fiber Gigabit plan offers a whole new set of possibilities online.
This package is ideal for connected and smart households to use multiple devices at super‑fast speeds with unlimited data. While your children will be able to play their favorite games online, you can take a work video call, with absolutely no lag.
With Fiber Gigabit'ssymmetrical download and upload speeds, you can backup your entire drive to the cloud in no time.
How to install CenturyLink internet at your home?
To make sure you get everything running smoothly with your connection, CenturyLink counts on the expertise of its team of technicians. When you purchase an internet plan, a tech will be sent to your home to install the modem or router properly.
What do I need to get CenturyLink internet service?
For DSL service: You'll either need a certified CenturyLink modem or if you already have, it must be on the company's approved list. DSL works over your existing phone lines, so generally, no other equipment is required.
Fiber: Besides a modem/router, you'll also need an Optical Terminal Network installed inside or outside your home. Tech will likely have to come on-site to do the installation.
Is using my own modem or CenturyLink equipment an option?
When purchasing your plan online, you automatically will get a note during the process if using your own modem is an option. However, using certified CenturyLink equipment ensures you get the best experience and performance for your internet.  That's because their modems and routers are tested and optimized to do so. Additionally, they are easy to set up, and you get 24/7 tech support for free.
Not sure if you want to be sent a tech or install equipment by yourself? Consider our recommendations:
Self-installisbestfor:
Simple modem setup
Customerswithbasic tech knowledge
Professional installation is Best For:
Fiberoptic internet setup that requires a wire installation
Customersunfamiliarwith tech setup
Save money by ordering the best internet provider online
When purchasing an internet plan online, you are able to get additional savings. Depending on the plan you choose, free modem purchase and tech install is an option. Another way to save up is by choosing digital billing and prepayment.
If you do purchase a plan that charges equipment fees, there are two options: you can either pay $9.99 a month for modem rental, or you can pay a one-time fee of $99.99 to purchase your modem.
Bundling deals
If you wish to save even more money, CenturyLink offers two bundling deals. Their DSL internet (up to 100 Mbps) plus home phone package starts at $90.00/mo. plus taxes. If fiber is available for you, their 940 Mbps internet + home phone deal starts at $105.00/mo. plus taxes.
Final words
If you're looking for affordable internet plans with unlimited data to enjoy streaming services, gaming, or just working from home, CenturyLink is a great option. It's available in most states and will eventually expand its coverage.
For parents who aren't at home most of the day, being able to control your children's access to online content through your smartphone is a bonus.