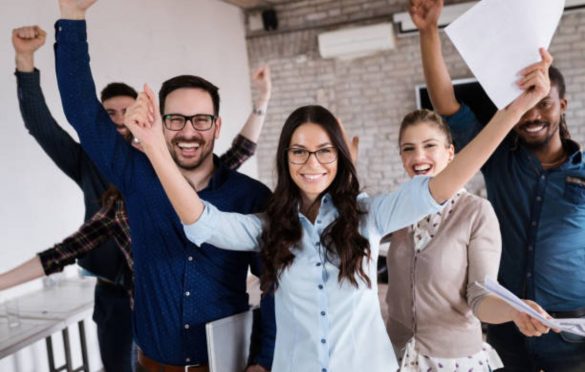 Seven Ways To Keep Your Employees Happy
The key to a successful business is not only focusing on customer needs but also on the happiness and satisfaction of your employees. A happy and motivated employee is more likely to work harder and give his maximum efforts towards their job, leading to the success of the worker as well as the company. Employees who are content with their work are usually more cheerful and that positivity rubs off on the entire team.
Here are few suggestions to make your employees happy:
1) Reward their hard work:
A simple appreciation message from the manager can uplift the mood of the employees and fuel them to work even harder. Send them a complimentary email, special note with flowers, and appreciate them in front of the whole team.
You can also offer bonuses and promotions for their hard work. Don't shy off from celebrating their special days or considering a holiday party. Do everything to reward their hard work and contribution to the organization.
2) Offer development courses:
Employees are more likely to feel valued when they notice that the organization is putting an extra effort into training them. Offer courses to t help them grow in their niche. You can also offer courses that improve their soft skills.
However, offering and managing courses for a large number of employees can easily become a daunting task for managers. Softwares like Ultimate Kronos Group is an LMS software help you manage content, track progress, and have a great learning experience through its amazing features.
3) Offer benefits:
Communicate with your employees on the benefits that they are expecting from the organization. Gym memberships and medical benefits are some of the common benefits that employees expect.However, you can conduct an office-wide survey to understand what other benefits they might prefer  .
Remember a happy employee can give their best at work which eventually helps the company.
4) Transparent workspace:
Maintain transparency at all levels in the organization, from a senior manager to a junior team member. Do not show any prejudice in offering promotions, bonuses, and projects, etc. Ensure everyone in the organization is treated equally.
Make sure every voice is heard and given equal importance. Send warning notes to the people who show favoritism and belittle the employees.
5) Provide incentives:
Incentives are a reward to people who achieve a certain goal or work extra hours to finish the assigned task. Incentives motivate the employees to work extra and accomplish specific tasks. Employee incentive programs can boost productivity, support business values, improve teamwork and morale, and attract top talent.
6) Better work/life balance:
Work/life balance is very important to keep the employees happy and satisfied. Make sure they have flexible work hours. If the employees feel that their work is colliding with their personal life, they may look for jobs that provide better work/life balance. Extra working hours and disturbed work/life balance can lead to high employee turnover which can tarnish the company's image.
7) Encourage breaks:
It is tough to focus on work for long hours. Have a flexible timetable where there is enough time for employees to relax and refuel their minds. Around five to ten minutes of break would be sufficient for every hour. Don't be so strict on the timings as long as the employee completes the tasks assigned in the given day.
Conclusion:
Your employees are your biggest asset.. Some employees are naturally inclined towards working hard and are passionate about their work, while some need extra push and guidance from the managers to perform better. Guide your employees and empathize with them to make them happy and satisfied at their job.