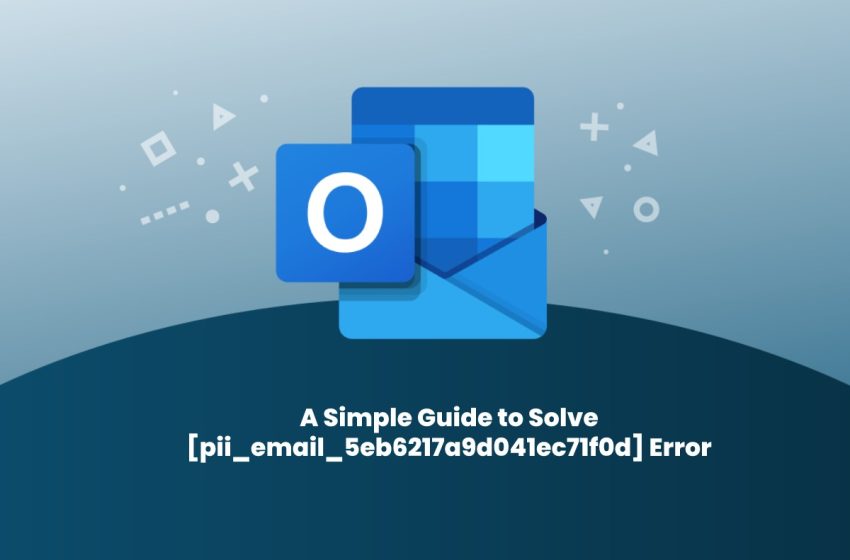 A Simple Guide to Solve [pii_email_5eb6217a9d041ec71f0d] Error
Ms Outlook is an excellent application for sending and receiving emails, and it is prevalent in today's business world due to its extraordinary features. Perhaps there is a common question from all the users while using Outlook, and they encounter an unknown technical error such as pii_email_5eb6217a9d041ec71f0d error. This post details some effective methods to fix such technical issues.
How to Resolve [pii_email_5eb6217a9d041ec71f0d] Error?
Suppose you encounter technical issues like the pii_email_5eb6217a9d041ec71f0d error while using Outlook, which indicates that Outlook is having the problem.
If you are using multiple Outlook accounts on numerous devices, this error can encounter due to incompatibility.
It is vital to clear the cache and cookies to avoid these technical issues for the smooth functioning of your MS Outlook application.
If you are using Windows 10, so better to use Microsoft Outlook version 7 or 8.
Update with the latest version of Outlook and uninstall the older version.
If the above ways are ineffective in resolving the issue, then the best alternative is to use a Web-based application.
Contact Microsoft support for further assistance.
Conclusion
The article provided practical solutions to resolve the Outlook pii_email_5eb6217a9d041ec71f0d issue. So if you believe the post is helpful, please share it with friends and relatives. Thanks.
Related Searches
[pii_email_06c8309b994327a502f2]
[pii_email_ffca7110eeeb9325550b]
[pii_email_ff52f6e3c01e03da84d8]
[pii_email_fd25aae6b076887d0396]
[pii_email_fcce7598915098a9765a]
[pii_email_fc9669d08da64edb911d]
[pii_email_fb396249404016a017b3]
[pii_email_fa418b7f941854c11195]
[pii_email_fa1ca9da007a20ba70c6]
[pii_email_f9c87aa4ec264c009d4a]
[pii_email_f973440c414c9a1c1f97]
[pii_email_f965d73c3904539b9886]
[pii_email_f4c2c602de1958dd0ca3]
[pii_email_f48f088d7fd65464441c]
[pii_email_f2a28c6c2708cf50dd1c]
[pii_email_f23c4a18e05e819cc5db]
[pii_email_ed59beefb39bb125fe51]
[pii_email_ec06abab504c466b689d]
[pii_email_e8b4bc7a6082dead921d]
[pii_email_e8096afe6dd1e7184aa8]
[pii_email_e75c0989631d3c66f4d8]
[pii_email_e70df506d228af25efcc]
[pii_email_e67aef3130fb973439d0]
[pii_email_e63d09a69f2dc2ca5e98]
[pii_email_e48e99b7ed4c8c4849c5]
[pii_email_e43ebd016a192406b125]
[pii_email_e27a0a620c6d0454d994]
[pii_email_de6cc1b113c1e55484cc]
[pii_email_de0dbbf14f2b51101900]
[pii_email_daa3f160b6cfe2011863]
[pii_email_d9b4ece962ebe5e11422]
[pii_email_d8d71769aed8b2f4d458]
[pii_email_d7103e3a9f5901732227]
[pii_email_d6db096f47c4772ea311]
[pii_email_d630966944a256bfc95a]
[pii_email_d5a72074e5b044138aa5]
[pii_email_d5a29d07d8597e10c157]
[pii_email_d59212cfd70105c50b43]
[pii_email_d570a2379407c9894040]
[pii_email_d54e8c2f6910783f3cf4]
[pii_email_d2e14c6b10c781e8b6c4]
[pii_email_d220e20851f5995851ee]
[pii_email_d0fa08aec49ca6c2f98a]
[pii_email_cf5c17a4198e6de6ebb1]
[pii_email_ce132da233711222b2eb]
[pii_email_cd18f05216b1649c86bd]
[pii_email_ccb2c3a65e10c3e376dd]
[pii_email_cc99947836afe22a8326]
[pii_email_cba977e6a11a53e50392]
[pii_email_cb6d0a94b5a98e904f28]
[pii_email_cb4caa530e7a29259dd2]
[pii_email_c7e566643a4b32b713b5]
[pii_email_c6b5750fff6b675a362a]
[pii_email_c53b52baef1d8ce25801]
[pii_email_c44709f39be23a2d3753]
[pii_email_c0ff144dbf1cf384306e]
[pii_email_bf39bf849e9220fbf7c0]
[pii_email_bc404c9e8d1eb5eeabd3]
[pii_email_bb5b06dd8e35297d52db]
[pii_email_b6e8b2d0cbec3c9bfd5e]
[pii_email_b6884531fd5d77de3fe4]
[pii_email_b55b31eb4a9283ecccca]
[pii_email_b447d5ae717155e90804]
[pii_email_b41d2fafc887703df501]
[pii_email_b0ee235e06876e226a8a]
[pii_email_b0c7e843603d4d1f2e4b]
[pii_email_b0bd2772254ae7e855ca]
[pii_email_afbf344f7ec7cb62a516]
[pii_email_ae67faa3a44358ed8712]
[pii_email_adfdac1a99201f426db6]
[pii_email_ade4b299df75825b31e0]
[pii_email_addd0b7d7fad319de971]
[pii_email_ac7b9a572b024ba29d6d]
[pii_email_aaeac7efe48ceed822e0]
[pii_email_a9b345b626e7d22e0e26]
[pii_email_a6c0bca8c04339339152]
[pii_email_a5aa79d7c9d0a3b08629]
[pii_email_a170429660bb54fc1ee7]
[pii_email_a124f278cc925a273b62]
[pii_email_a0125d6e8ea8a51c1cfe]
[pii_email_9ffe7718b81dd7066dea]
[pii_email_9ec20a1f843adb33b562]
[pii_email_9e4f45f2e051b0f47aa2]
[pii_email_9cef0e8c1b4007e60d4a]
[pii_email_9cc9e6741d3635c5c445]
[pii_email_99c9ccca13760bd4f3e4]
[pii_email_9972f1c61752415c9131]
[pii_email_993aa8477043459aeac2]
[pii_email_991ba4714cfaf0115a75]
[pii_email_97bc50eaf8a59db36393]
[pii_email_96ebbfb6f511a97c4844]
[pii_email_961e222f13463dbd69bb]
[pii_email_961c8ad684b6a31d7ae1]
[pii_email_9579fced155ce7f77e69]
[pii_email_955ae72e542c57653480]
[pii_email_93e142acaed7eed97542]
[pii_email_93d10c42d9d7121416e0]
[pii_email_91147ddafafc8cf3a508]
[pii_email_90b3bf7d6566c721a45b]
[pii_email_8dd641680fa34b952504]
[pii_email_8dc9ca3a02cc1c947844]
[pii_email_8a0a591c65426c03c9a9]
[pii_email_85f0fb1cb59d553c7f76]
[pii_email_842a4ff8442fb78931e9]
[pii_email_8314f29025376ace38d8]
[pii_email_82ee6fd797a894fe966e]
[pii_email_82d1acdfa1f0b8dbf078]
[pii_email_8175564aa168081332d5]
[pii_email_7dd54c6bd0ef298d661b]
[pii_email_7d8e892569756daa6a0f]
[pii_email_7d1e7687a65c293f82fc]
[pii_email_7ad43b498b29036bc427]
[pii_email_7a10e25262e9951483df]
[pii_email_787e814632ac2eccb9e4]
[pii_email_7813599430b395ff4587]
[pii_email_77b65d11a6a15ecc0823]
[pii_email_773f1a0e3b1af5016e26]
[pii_email_7294279bc4c1b2a5393c]
[pii_email_720e8c8d3ae931c80e28]
[pii_email_7193baf4bda4b34e0614]
[pii_email_7087293f2dfb1eb98234]
[pii_email_6fac0f93a0fb907d7c3d]
[pii_email_6f135a6ef99707c2c0eb]
[pii_email_6e710c6a69972f4411d1]
[pii_email_6c8beb6e4d8331a5435e]
[pii_email_6c014d2537e20f516dde]
[pii_email_6ab9323b6fa6af9a2f06]
[pii_email_69f958541a2e28d18107]
[pii_email_69af56ebea45cc793f10]
[pii_email_6933b343c8686314eaf8]
[pii_email_68ce6a12ef5f65e21ad2]
[pii_email_67d11317a613ee8501cf]
[pii_email_67c516f9ec369f283df2]
[pii_email_677b76e604d57b234348]
[pii_email_6666d16632bb78892692]
[pii_email_65d62c27394a63ce47a9]
[pii_email_6444de6a106152ebd878]
[pii_email_640082fe501004f6bdbb]
[pii_email_626b6e58017b5d482e2d]
[pii_email_5fbbd85d57fc8453109c]
[pii_email_5f1d9cda389539c2b9c2]
[pii_email_5e62c8a0c0c73c6109dc]
[pii_email_5d24ea94de9a41397f2e]
[pii_email_5ab6d89d88b5b042f212]
[pii_email_59e715c0ee078e5bac4c]
[pii_email_58de94eb4737fd1165e4]
[pii_email_58145ecb359e75266648]
[pii_email_576edbca596501401a24]
[pii_email_5758c3c1939fc0770d02]
[pii_email_56c53342f8bec10432a5]
[pii_email_5698afedddf766c4a55e]
[pii_email_562a8752ffd2c9b631dd]
[pii_email_50ee9531487d065fe54b]
[pii_email_4d9df02ad15109be5377]
[pii_email_4a93b822a466195e7520]
[pii_email_481553cf7f0e7fefaf9a]
[pii_email_47a469dd82e411f697df]
[pii_email_458be10d353e5714deaf]
[pii_email_44530685a2207fadbdb8]
[pii_email_4434acbce191b20b94af]
[pii_email_4316edb7cd2460bf5015]
[pii_email_41dbf59bce57d2d9a872]
[pii_email_4127b6d16b65afa67a0e]
[pii_email_400650057625103c3f43]
[pii_email_3ff52906d1ef28801038]
[pii_email_3f73dcf2d3f12d7d549c]
[pii_email_3f098ec0a88b3d3d3f94]
[pii_email_3d0f14c86b6df8393c1c]
[pii_email_3ca22155a0589f8ed0af]
[pii_email_3c8fc767ed2e1e44c367]
[pii_email_3c14a0cf9d9def99a06b]
[pii_email_3bf419b77eec066e05c7]
[pii_email_3ab0f039ca917327827c]
[pii_email_3a1ac4e1a768334409a4]
[pii_email_39666cbeee230470e473]
[pii_email_36c00b2bdb5d18965537]
[pii_email_36659b218d2685bb6670]
[pii_email_35266764e40b063c5896]
[pii_email_341810f15fff8d3949bb]
[pii_email_330519b9115d1475b28c]
[pii_email_3248a4a45e65710c0912]
[pii_email_30972194668a760cbf54]
[pii_email_306434d83065ae34ce00]
[pii_email_2f07c5d80f3990017972]
[pii_email_2aabccf59e2f4b40cc5f]
[pii_email_29539076c948bffe773c]
[pii_email_28f1f6417a5bf650b5ec]
[pii_email_274fd86c2624ac2c3e62]
[pii_email_26153bd5d40798c1ff73]
[pii_email_24874a9d62e1090a7efc]
[pii_email_22d5fce28b07f4871793]
[pii_email_22d380d9acfcd048679a]
[pii_email_2202997766f8b6d1ee5b]
[pii_email_22024d49b04232bf6da0]
[pii_email_217ec88b0775489bf051]
[pii_email_1e2047008e73d5900da8]
[pii_email_1e0f4e2dc0caa3e167df]
[pii_email_1c909c9fb19404f0df79]
[pii_email_1be881db314b57d07d30]
[pii_email_1a488cd31366df0bfa2e]
[pii_email_18b5c8d5adf0e5837d2c]
[pii_email_174d9303e80200940957]
[pii_email_1663356b10d6c192c417]
[pii_email_1525e5ccfcf2f2f19454]
[pii_email_12b57a93e8b8a95651bb]
[pii_email_10fa061044d68c0a85b2]
[pii_email_0ea58ac774d9f4004fcc]
[pii_email_0e3b1c416b0e89cb9ac6]
[pii_email_0c7de9242c3b040c791e]
[pii_email_0bf604bc2a8428216467]
[pii_email_0bc47727f0f0bfa12870]
[pii_email_0b5c90f475a54b9fb90e]
[pii_email_0814b2edac53e5c5cddd]
[pii_email_056ba88da450b1057ecc]
[pii_email_03a88f2b287e391a5723]
[pii_email_021dd70ca845e94ca2b5]
[pii_email_012203ae1a96354fa66a]