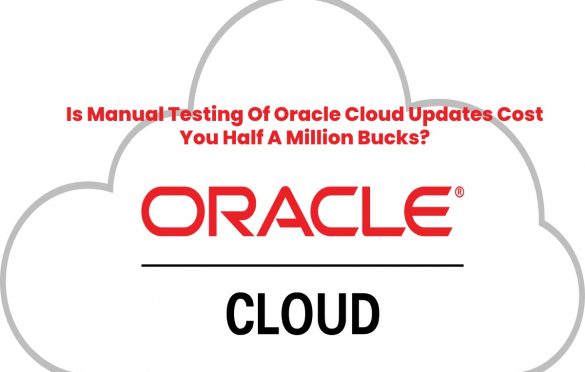 Is Manual Testing Of Oracle Cloud Updates Costing You Up-To Half A Million Bucks A Year?
One of our client while evaluating our test automation solution for Oracle Cloud apps called us and told – "Holy S**t, we're losing around 550K a year because we're not able to test our oracle cloud updates properly." And then over 30 minutes, he went on ranting about support cost, business disruptions, and a whole lot of things that he faced while manually certifying Oracle Cloud updates.
This is not the story of our client alone!
Like our client, many other enterprises have also embraced Oracle Cloud Apps but are using manual testing to certify Oracle Cloud Apps. While doing this, they overlook how it will impact ROI in a long term as well as the associated business risks. Let's analyse how manual testing can negatively impact your business.
Oracle rolls out updates quarterly that require at least two rounds of testing. Moreover, the first round of testing takes place in the test environment while the other round occurs two weeks later in the production environment. In the case of our client, he was facing testing challenges on multiple fronts starting from Business Analysts (BAs), then test managers, testers, Subject Matter Experts (SMEs), test reviewers, and finally the regression test execution teams. In nutshell, the entire functional testing organization was facing the issue. Each group used to identify its process challenges with the current manual test design approach.
Our client went on saying that
"QA teams were using multiple modelling tools. Building an application flow was not only complicated for them but also time-consuming. The testers and developers were taking a considerable amount of time and all the team members were on different pages."
"Another challenge which we're facing was inadequate test coverage and traceability in Oracle testing. Often similar or duplicate test cases were created and executed, resulting in wastage of time as well as efforts. It became really difficult to priorities things like speed time to market, adopt agile, and increase automation penetration. Compliance risk was another issue due to delayed upgrades."
"Multiple execution tools, programmers and specialists kept on increasing the testing costs, however, testing was taking its usual time. We're in great pressure as product release delay had become normal. We're looking for Oracle test automation that can reduce pressure as well as testing cycles."
In the end what our client told us
"Pre-built automated test suite for Oracle EBS cloud has helped us in cutting down the noise. 250+ pre-configured business processes across different modules – Order Management, Procurement, Supply Chain Inventory, Oracle Financials, and additional portals has helped us a lot in reducing test execution time. More importantly, we're more than 90% covered with test scripts", he said in the end.
Summarizing what our client got in the end
You can save money by automating not just EBS tests, but also the integrated apps.
Increase productivity by freeing up functional experts to improve alignment with the business.
Reduce the risk of financial & reputation loss by eliminating the common mishaps of EBS delivery
Reduce the compliance cost of staying up-to-date with new EBS patches & releases