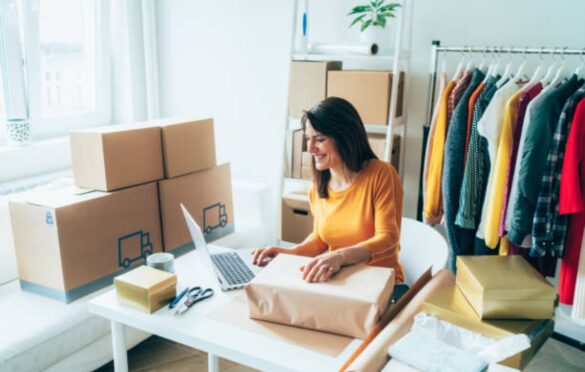 How To Start A Business From Home And Why Should You?
Business From Home: Starting a business of your own gives you a feeling of autonomy and independence, here is an opportunity to unshackle yourself from the 9 to 5 horror that is perpetual. This is not to say that starting your own business is a cakewalk like the gurus make it seem so on Instagram.
But if it's any constellation once you get your business right the perks that you are gonna enjoy far outweigh the 9-5 charade and in the end all the hustle and grind that you put in will pay off.
Starting a business from the confinements of your home puts you in an advantageous position for many reasons like,
You get to save on expenses like rent, commute, and office stationery
You have more time at your disposal now
You can multitask
You have more control over your schedule now
There are tax benefits
The startup costs are far lower
How do you go about setting up a business from home anyways?
1. Decide on a successful startup idea
The first step is a no-brainer, for you to have a business first you need to have an idea in mind, that's where it all starts you need a business idea that can be incentivized.
You can get the business ideas in numerous ways it can be a shower thought idea that you never pursued.
It's best to take a piece of paper and jot down every probable business ideas that pop into your mind which also syncs with your passion and interests. Then you should go through proof of concept stage to test you idea. Here are a few proof of concept examples.
Not getting any ideas, that is totally fine, you have got a blank slate and that is okay. It's time to get into the research mode.
Head over to Google and startup communities and look for ideas there, consult people who recently started their business and are seeing success with their business, you can learn a great deal from them they are the best ones who can guide you in this.
2. Write your business plan
So you got your business idea, that's great! But I am sure that it's all over the place. You need to write that plan down and map every step that there is to have a structured approach towards starting your business.
What you need is a step-by-step plan that what would you do after A and what will you do if A fails do you have a backup to counteract the predicament you find yourself into?
Your business plan needs to be detailed to the last detail so that there aren't any unexpected halts and delays that prolong the time your business remains in a pipeline.
3. Choose your business name
Now is the phase that will consume a significant chunk of your time, this is not a phase that you should rush into.
Take your time when choosing the business name, changing the business name after full-fledged establishing only makes it worse.
Factors to consider when choosing the business name are
It should be meaningful with what your business is about
It shouldn't have a foul meaning in any sense or any translation
It should be symbolic
If you can attach a story to it then that's a plus
Fun fact: Amazon was earlier named "Cadaver" Jeff Bezos later found Cadaver in a different country according to their native language meaning corpse and so he changed the company name to Amazon.
4. Register your home business address
Home-based businesses are mostly online and in many ways don't have any existence but that doesn't need to be the case.
Virtual Business Address providers will help you with just that.
With a virtual business address, your business can simulate a unique geographical presence that can be leveraged to build trust and enjoy perks like getting a business license and a separate virtual place to receive your mails.
What's more, Google My Business will approve your listing if it has a location address; your phone number can also get approved because of this.
5. Separate your business and personal finances
This is a step that you need to do in the beginner stages to not lose your sanity in the later stages.
Your business acts as a different entity and you need to treat it like one. If you mix business finances with personal then that only makes everything chaotic and you would not want that.
Plus, with business finances separate you can issue a business credit card and enjoy business perks like raising urgent business loans to meet quick demands like purchasing the stock for customer demand fulfillment.
6. Make note of every expense
In the beginning stages, the earning of your business is going to be low but you still need to keep track of every transaction that is taking place. Maintaining cash flow is important because later when your business gets exponential you will find the bills that you saved helping you out with taxation thereby helping you earn more as you are cleverly cutting down on expenses.
Running a business is not a sprint, it's a marathon; be prepared to face the uninvited challenges that shall come your way.