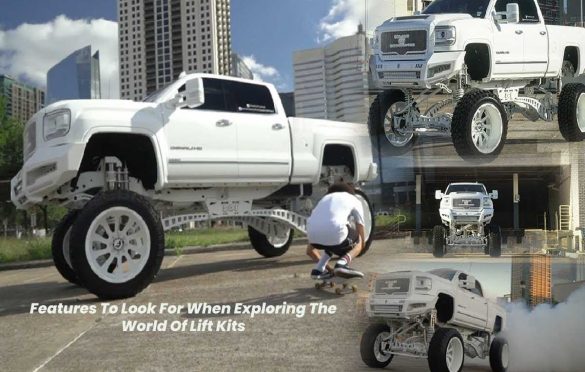 Features To Look For When Exploring The World Of Lift Kits
Are you on the market for new lift kits? Perhaps you have been eyeing a Pro Comp suspension lift. Before you dive headfirst into your first (or next) lift kit, there are a few things you want to consider. There is a wide range of lift kit options on the market, and you want to be sure you are finding the right solution for your needs. Keeping the following features in mind will help you.
Adjustability
One of the key challenges presented by lift kits is that they substantially impact how the vehicle drives. In the worst cases, this can make the vehicle significantly more dangerous. However, even in the best cases, your truck or SUV will feel different when you drive compared to the factory setup.
It can help to find a lift kit that offers easy adjustability. For example, a lot of King suspension products have adjustment features built into them. This makes it easier to find a ride quality that works for you.
Fit & Finish
A suspension lift kit is adjusting the components that your vehicle rides on. You don't want to simply pick the cheapest option and call it a day. Look for fit and finish when evaluating a lift kit. Tight tolerances and well-finished components indicate good build quality. You don't have to buy the most expensive kit in the catalog but always opt for something well-made. Plus, good finishes look a lot nicer.
The Right Amount of Lift
You may be surprised by how much of a difference a single inch of lift can make, especially when paired with larger off-road tires. As you are shopping for a lift kit, it is important to identify the right amount of lift for your needs.
Some people truly want to go as tall as possible and will only consider lifts of eight inches or more. Conversely, some people want something modest but practical. This may be around the three-inch range. Know your needs and try to find opportunities to experience the impact of different lift amounts (perhaps a friend has a lifting truck or SUV you can test drive).
A Balance of Affordability and Performance
A lot of first-time lift kit shoppers immediately opt for the most affordable option or the most ridiculous, no-holds-barred lift possible. Both of these approaches are not ideal. Instead, it is important to find a balance between quality, lift amount, special features, and price.
Don't forget that you will likely be pairing your lift with other upgrades such as new truck wheels and tires. Be realistic about your budget, but don't go so cheap that you are sacrificing build quality (and safety).
Get a New Lift Kit for Your Truck or SUV Today
With the above features in mind, you will be better suited to shop for your next lift kit. There are lots of options on the market. Spend some time doing your research before you buy. This is a major modification, and you want to find the right part. Check out some lift kits today.