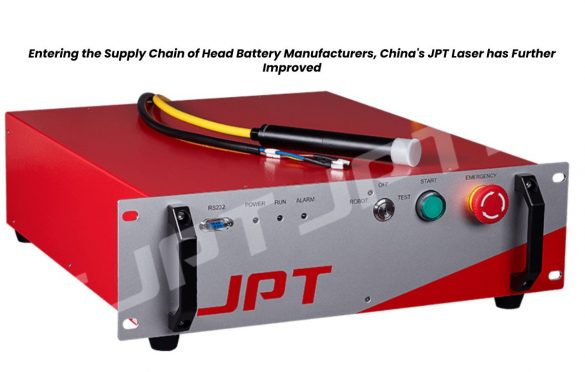 Entering the Supply Chain of Head Battery Manufacturers, China's JPT Laser has Further Improved
With the ever-increasing expansion of the power battery industry, the demand for lithium batteries and their equipment has hit unprecedented levels. However, with certain core and production equipment components being largely dependent on imported materials, there have been several slowdowns in the power battery's production – chief among them being lasers.
Lasers have a longstanding history of being a vital component of lithium battery equipment. Currently, this field has been dominated by a few select brands like Coherent, TRUMPF, and IPG. This has resulted in an increase in cost for all laser equipment produced in China while also posing a serious threat to supply stability.
With that in mind, leading companies – including CALB, CATL, BYD, and others – have sought to accelerate the domestic production of lasers on a nationwide scale. This will break the unruly monopoly established by imported brands while also ensuring the safety and security of the supply chain.
Just recently, JPT received word from the main supplier for CATL that they (JPT) would be tasked with producing company MOPA pulsed fiber lasers. These lasers are used in the process of cutting pole pieces when manufacturing power battery cells.
JPT – Leading Laser Provider
As a leading provider of lasers and laser equipment, JPT adheres to the industry positioning of "laser light source +". Through deep cultivation of core laser light source technology, the company plans to focus on resolving the ever-growing problem of supply instability for key laser components and materials.
JPT also has established deep long-standing connections and cooperation with many benchmark companies, furthering their commitment to producing the highest quality laser products.
MOPA Pulsed Fiber Laser
Developed by JPT exclusively, the MOPA pulsed fiber laser is the first laser to achieve mass production and sales in China. This has worked to greatly bridge the previously unassailable tech gap in this field between domestic and imported products.
And this is not the only product in JPT's arsenal. Additionally, the company has recently developed high-pulse energy and high-brightness MOPA pulsed laser for photovoltaic new energy and other industries. This MOPA pulsed laser is the first laser to effectively perform glass drilling, while also having the ability to cut through power battery pole pieces without any burrs.
A Full Range of Products
Presently, JPT has amassed a wide array of useful and effective laser-based products, all of which prove essential for power battery manufacturing. These include the aforementioned pulsed fiber lasers as well as the continuous fiber laser, solid-state laser, and ultrafast laser. This also includes a full range of laser products meant for power battery manufacturing.
Through the support of mainstream laser equipment manufacturers, JPT has managed to successfully enter the supply chain of companies leading the power battery supply. They have received orders from BYD while also recently becoming the supplier of CATL. This is all in addition to producing high-quality products for renowned companies like Farasis Energy and Gotion High tech Co. Ltd.
Stepping outside of the power battery discussion, JPT has also been recognized by world-leading consumer electronics, laser equipment, semiconductor, and optoelectronic component manufacturers including Intel, Apple, Yageo, Han's Laser, Uniohm, Dana He Group, and many more.
High-End Performance with Tangible Growth
JPT's continual performance has resulted in incredible growth. In 2021, the company had an operating income of 1.199 billion yuan, acting as a 45% year-on-year increase from 2020. Similarly, the company's 2021 net profit of 91.27 million yuan (attributable to equity) has doubled the year-on-year increase, reaching well over 106.04% compared to 2020. Excluding extraordinary profit and loss, JPT has netted a 65.0597-million-yuan profit, a 209.7% year-on-year increase.
In 2021, JPT delivered a 40,000-watt continuous wave fiber laser while customizing the research and development of laser welding workstations by the customer needs for completing the import substitution of lasers as part of the welding process for power battery companies.
A Driving Force for Innovation
Leading China's fiber laser production, JPT has pushed for and championed innovation and further development. As a result, they have continued to invest heavily in the research and development sector. Acting as the driving force for innovation, JPT has worked to greatly accelerate technological updates along with continually improving product iteration along with production capacity.
In terms of its R&D strengths, JPT has invested over 144 million yuan in 2021 alone, a 42.95% year-on-year increase, accounting for well over 12% of the company's total gross revenue.
An Eye to The Future
During the reporting period of its core product, the MOPA pulsed fiber laser, JPT launched the M8 product series. The M8 offers twice the peak energy as the previous generations. This was all done while the high-brightness MOPA pulsed laser had managed to complete development and reach customer hands for verification. Both of these new products will offer industries new and innovative solutions in the lithium battery and photovoltaic spaces respectively.
Furthermore, by constantly staying up to date with what their customers want, JPT has recently begun the development of laser light sources alongside intelligent optical equipment and laser equipment. This is in addition to their focus on benchmark customers and the downstream industries. Thus, this has resulted in an expansive catalog of equipment and devices being developed.
Resolving Limited Production Capacity for Good
In terms of expanding production capacity, the first phase of their fundraising project, the Huizhou Fiber Laser Industrial Park, has recently been completed in late 2021. There, all production lines for continuous fiber lasers, pulsed fiber lasers, and optical & laser intelligent equipment will be relocated to the Huizhou Fiber Laser Industrial Area. With this, domestic limited production capacity should be a thing of the past.