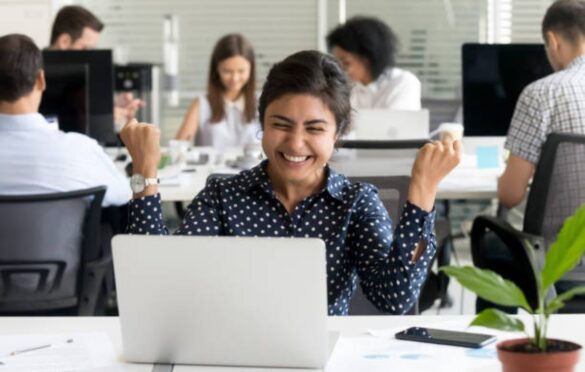 8 Steps To Build A Successful Employee Recognition Program
Having the employee reward & recognition is quite apparent and implementing the employee recognition program for the company must be a need of an hour. Employee recognition is the best thing that you may do for the company and when it is done in the right way, employee recognition can lead to stronger emotional & psychological commitment from your employee. It will result in higher productivity & collaboration to the deeper employee engagement level by giving them custom awards.
Employee recognition is an important tool in talent management and the creation of an empathetic, purpose-driven, and inclusive company. This helps to reduce your employee turnover, improves absenteeism, and can drive your company's success.
1. Determine the right goal
Before starting the employee recognition program by giving custom awards at your company, it's very important, to have the right vision about it. Never make any kind of recognition programs about increasing the overall company revenue. Make sure you identify the focus of your recognition program & ensure it's consistent with the organizational values.
2. Choose Your Award
Coming over to its fun part. What type of award can you give out? Can you just give out the certificate, customized trophy, or have got budget for the larger award? No matter what you choose, from large to small, ensure that your gift will be meaningful. One "great job!" shout-out or "employee of a month" pin does not talk much. Ensure your staff knows what they're being recognized and appreciated for, and such thought went in the award.
3. Communicate
Your next step will be communicating with your employees regarding the recognition program. You must talk to the employees regarding any need for employee recognition at your company & communicate very clearly, criteria for success. You need to speak to them about what they will do to get recognized & how often the program is run.
4. Decide the type of rewards you wish to offer
The rewards are anything but ensure they're sincere and genuine. You may have to consider taking the help of the examples to decide the right type of reward that you wish to give to an employee.
Plaques
Framed certificates.
Gift certificates.
Gift cards
Local events tickets
5. Make sure it is frequent
It must be given when you observe any employee display positive action and behavior in reaching their team & company goals. Infrequent recognition improves the possibility of the employees feeling unappreciated. So, to help with the frequent recognition, most of the companies are implementing employee recognition technology that will make it simple for the employees & managers to value other employees' contributions when it takes place.
6. Determine the recognition ideas
Many organizations feel a need to change the way employees are recognized for their exceptional skills & work. You must come up with different ideas for recognizing your employees contrary to the traditional ways used. For instance, some offices provide no meeting Fridays for the top-performing employees & other offices promote the employee health & well-being just by giving their staff gym discounts.
8. Define criteria
Another key to meaningful recognition in your workplace is setting the right criteria to get rewarded & appreciated. The recognition must be easy, attainable, as well as convenient for the workforce. In order, to make the rewards & recognition meaningful, it is important to choose what type of work will be recognized. An idea behind creating the criteria for the recognition will be to encourage the behaviors you would like to see in your company. You can review the series of criteria and know what works right for your company.
9. Identify the goals of your recognition program
After you form a committee, you need to identify the goal of your recognition program to offer new opportunities for your employees to get rewarded & recognized. Some important things you must remember are:
This program must meet the demands of your employees & complement their performance & behavior. Recognition programs must be well-connected to core values and mission statements and the division, department, or university.
After the launch of the program ensure it's running efficiently and properly. To know how well it's working, track down the program & the effect it's having on your employees. You must monitor the success of this program and keep your staff motivated.