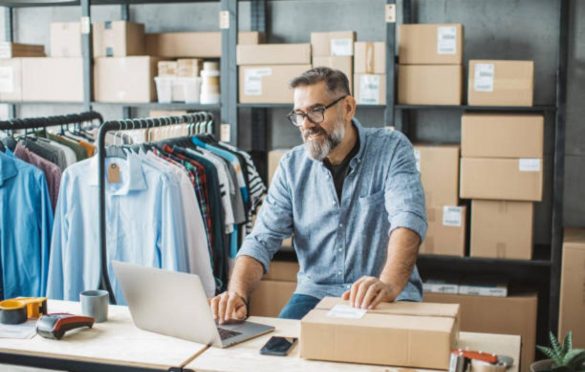 12 Best Online Business Ideas For Beginners To Start In 2021
Launching an online business has become as easy as ABC. In the current era, any person who has a computer, a good internet connection, and a passion for working like their boss can start a business without requiring any fancy degrees, diplomas, or prior business experience. So, if you're someone who has a knack for running your own business…
Or earning a sizeable profit without investing a fortune, we have you covered.
In today's article, we have assembled 12 online business ideas to start in 2021.
Bookmark this page, so you never have to search the internet again for easy and successful online business ideas in 2021.
Let's not waste any single minute and dive into these online business ideas 2021, which can be started and run from the comfort of your bedroom or even your patio.
12 Best Online Business Ideas For Beginners To Start In 2021
1. Start Blogging
Blogging is still raging in the era of social media. Initially, it was used as an online journal, but now people have taken this path to market their brand and earn good revenue.
Having a blog allows you to promote a company's products, run third-party ads, or you can even sell your own goods if you have a strong community of loyal readers. You can easily start a blog in the comfort of your home and without investing a dime. There are many free blogging websites available on the internet. All you have to do is register yourself, design your blog page, and voila! It's ready.
Wondering how to get started?
Make a list of all the things that you are passionate about. It can include anything from cooking and baking to sports cars and high-tech goods.
Shortlist your options and select one niche; for instance, if you have a remarkable sense of fashion and style, you can start a fashion blog. If you are into fitness, you can create articles about different diet plans, workout routines, detox drinks, etc.
Create an informative and exciting piece of articles and publish it on your feed. Make sure you promote your blog in your social circle and social networking sites.
2. Affiliate Marketing
Affiliate marketing is when you recommend a product or service to your audience and receive a commission from the manufacturer when your audience converts into their customer.
There is zero percent risk factor in this business. You have to promote the goods of the producer without buying them. You can promote them on your blog, social networking accounts, YouTube channel, etc. If you succeed in making your audience purchase the product, you earn a predetermined commission cut from each sale.
There are many affiliate programs available on the internet according to your interests, niche of your blog, YouTube channel, social media marketing, and audience. For example, Amazon and Shopify have their own affiliate programs. In addition, many brands work with affiliate marketers, keep an eye if a brand that aligns with your niche is starting an affiliate program and sign up for it.
Once you have agreed to the brand's terms and conditions, start planning strategies to promote the products on your platform to your readers or followers.
3. Start Teaching English Online
English tutoring online jobs are one of the most popular ways to make money online today. There are millions of people around the world looking to improve their skills in the English language, so there's no lack of teaching opportunities. All you need to do is take the first step towards becoming an online English tutor by joining a legitimate e-learning platform that connects teachers with prospective students.
Many people mistakenly believe that English tutor jobs have stringent requirements. That may have been the case in the past, but nowadays, you can start a career teaching English to learners from different countries with minimal qualifications. If you are a native speaker, you can easily find English online tutoring jobs even if you do not have a degree or certifications. If, on the other hand, you are fluent in the language but not a native speaker, the way in maybe slightly harder as proof of proficiency may be required by some platforms. You can easily overcome this hurdle by taking language proficiency exams such as IELTS (International English Language Testing System) and TOEFL (Test of English as a Foreign Language). From there, you can begin applying for English tutoring jobs online.
4. Social Media Management
Social networking sites have gained immense popularity in the past decades. It has become an integral marketing tool for many businesses, regardless of their nature and size.
Social media sites have 3.78 billion active users, which makes them a perfect marketing platform for business. Many giant companies hire an in-house social media manager to design and publish posts, engage with the audience, reply to comments and messages, etc. On the contrary, small-scale businesses can neither afford to hire a full-time social media manager; nor manage multiple social accounts and other business activities. Hence, they often outsource social media managers to manage their accounts.
You can reach out to such brands and offer your services in return for remuneration. You can design engaging posts, write snappy captions, create a buzz by running a contest, posting interactive stories, engaging in the comment sections, etc.
Managing social media accounts is not difficult. We all browse these websites daily and post content on our feed. Why not do the same things for the companies and mint some money?
5. Start an eCommerce Store
Did you know that there are around 12 million to 24 million eCommerce stores across the world? The reason for their immense popularity is the ease of establishment, convenience, and no requirement for a hefty investment.
All you need is a good eCommerce platform like Shopify, a good theme, and products to sell to establish your eCommerce store. You don't have to invest millions of dollars to purchase goods and then sell them after adding your profit margin. You can sell almost anything online, from t-shirts to homemade brownies.
If you are a commendable chef, you can sell your signature dishes online. Similarly, if you have some excellent artistic skills, create unique articles and display them on your website for sale, such as hand-painted mugs, t-shirts, plant pots, etc.
6. Work As Social Media Influencer
If blogging is not your cup of tea, try your hands on becoming a social media influencer. Influencer marketing is in the limelight of digital marketing campaigns. Many brands collaborate with social media influencers to reach a large audience and promote their goods.
Social media influencers charge the brands for collaboration, promoting their goods and services, or creating exclusive promotional content for them.
You can become a social media influencer by selecting your niche, creating impeccable content, and growing your followers. Once you have an organic following, brands will reach out to you for collaboration proposals.
However, keep in mind that you cannot become an influencer overnight. It takes time, effort, and lots of engaging content to monetize your social media platform and earn.
7. Freelance Writing
Are you good with using words and weaving them into compelling and engaging sentences? If yes, then dive into the field of freelance writing and write content for brands to earn your living.
The scope of freelance writing is quite broad. We have listed some of the following areas you can work in:
a. Technical Writing
Technical writing refers to writing instructions, manuals, and guides for an electronic product or software. If you enjoy exploring and talking about the technical side of the products, maybe this option is for you.
b. Resume Writing
People need polished and sophisticated resumes to apply for jobs. However, many of them aren't proficient in creating clean and crisp resumes that can impress the HR managers and get an interview call from the company.
If you are good with writing and editing skills, you can help those people land their dream job and charge them for creating excellent resumes.
c. Speech Writing
If you have the talent for writing persuasive and impressive paragraphs, try your hands on speech writing.
d. Grant Writing
Grant writers compose proposals to help welfare and non-profit organizations to get donations and funds for their operations.
e. Copywriter
Copywriters earn a good amount of money from eCommerce websites. Their job is to write irresistible product descriptions for potential customers.
Product description plays a crucial role in boosting eCommerce conversions. Hence, a copywriter's job is to entice the customer to add the products to his writing targeted product description.
f. Editing And Proofreading
If writing is not your thing, but you are observant and able to detect flaws, enter the arena of editing and proofreading and make a lucrative income channel for yourself.
Editing and proofreading require thoroughly reading the document, checking for grammatical, spelling, and contextual errors, and rectifying them to make it flawless.
8. Create Apps And Themes
If you are a tech genius and have good coding skills, put them to use and start creating mobile apps, WordPress, or Shopify themes and plugins and sell them as digital goods. Or you can even build awesome websites on Shopify, WordPress, Wix, or any other CMS.
For example, you can set up an eCommerce website or tailor the theme and plugins according to the client's requirements. Or you can create custom Shopify or WordPress theme templates and sell them to marketers and entrepreneurs who want to build their own website or other big merchants of digital goods.
This business idea can help you generate a good amount of money as technology is escalating each day. The demand for technical skills and digital products is also rising every day.
9. Graphic Designing
Graphic designers are always in high demand. The current era is all about images and graphical content on the internet. It is a harsh reality that people do not prefer to read long strings of text. Instead, they prefer to view and understand the message conveyed through pictures, infographics, short video clips, etc.
Graphic designing is an excellent skill that can earn you a good amount of revenue. Whether it's content creation on social networking sites, publishing interesting infographics on blog posts, creating logos, or designing click-worthy thumbnails for YouTube videos, businesses constantly need a graphic designer.
Create a portfolio of your previous work, or design a few samples to showcase your work to potential clients.
If you want to work as a graphic designer but don't have skills, don't worry. There are numerous courses available online that can help you become a competent graphic designer in no time.
10. Launch A Dropshipping Store
Do you think you need a lot of cash and a warehouse stocked with inventory to run your own eCommerce business?
If yes, then think again. Dropshipping business model is the easiest form of business to start. You have to find a niche, build an online store, and find a trustworthy supplier to work with. The visitors can place their order at your store, and the supplier will take care of the rest of the things. He will deal with the inventory, packaging, and delivering the goods.
This business model is perfect for entrepreneurs who don't want to risk their investment on buying huge inventory which might not get sold. A person can easily earn profit without taking the hassle of purchasing the merchandise and then delivering it to the customer. The supplier will take care of that, and the dropshipper can enjoy the profit.
Dropshipping business can be easily established and run in the comfort of your home or even a nearby coffee shop.
11. Create Subscription Boxes
Subscription boxes are a huge hit, and people love to get their hands on these boxes as they make great gifts and look adorable to pamper themselves.
A subscription box is a themed-based package that contains several products. Many industries have introduced subscription boxes where they add several highly demanded products and package them nicely for the customers. For instance, you can create subscription boxes for fiction readers. You can add a novel, a mug, stationery items, coasters, or any other thing that goes with the theme of your book.
The best part about selling these boxes is that you don't have to create products on your own. You can purchase a few items that go with your theme, pack them together nicely, and send them to your customers.
Remember, packaging plays a pivotal role; thus, make sure you pour extra effort into packing your goods.
12. Start A YouTube Channel
YouTube is a popular search engine for videos. There are more than 2 billion active users on YouTube who watch more than 1 billion hours of videos daily. It is a fantastic platform for people who want to teach a course, skill, or simply create exciting videos on a wide range of topics.
If you have a skill that you can teach and earn money, try YouTube. There are thousands of videos in different niches, and people love to watch them. So, let's say if you are fluent in some foreign language, for example, French, Spanish, German, etc., you can easily create a course and teach the interested audience that language. You can also create cooking, baking, stitching, painting, or even product review videos for your channel. In short, you can find any niche and create interesting videos to mint money.
But, making a YouTube channel and posting your first video will not start pumping up your bank account. Just as blogging and becoming an influencer takes time, monetizing a YouTube channel also requires patience, hard work, and immense effort.
13. Event Planner
Are you a party animal and pull off successful parties?
Why not put your organization and management skills to use and earn some cash?
Event planning is a great business, especially when you are enthusiastic about arranging, managing, and administering an event. This business can be easily started by making a page on Facebook or Instagram. Use the decoration ideas from Pinterest and plan memorable events such as bridal showers, baby showers, birthday parties, bachelorettes, etc.
Don't forget to spread the word in your social circle and run paid ads about your event planning business to reach your potential audience and convert them into customers.
Wrapping Up
There you have it, dear readers. The 12 best online business ideas for beginners to start in 2021.
Which ideas are you planning to put to use? Enlighten us in the comments below!
Author Bio:
Ricky Hayes is the Co-Founder and Head of Marketing at Debutify – a free Shopify theme, helping dropshippers build high-converting stores in minutes. He is a passionate entrepreneur running multiple businesses, marketing agencies, and mentoring programs.